Wood, timber product exports to hit US$8 billion
10/12/2017
Exports of wood and timber products are expected to hit 8 billion USD in 2017 surpassing the yearly target of 7 5 billion USD according to Nguyen Ton Quyen Vice President and General Secretary of the Vietnam Timber and Forest Product Association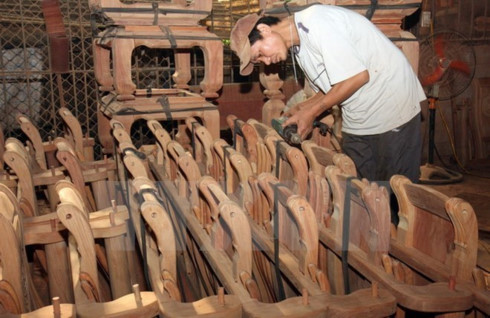 The figure reached nearly US$7 billion in January-November, up 10.5% from the same period last year, said Quyen.
Strong growth of wood exports was seen in key markets such as the US (up 18.8%), the RoK (14.2%) and Canada (13.4%). The trend was attributed to an increase in processed wooden products, such as MDF (Medium-density fibre board), particle board and artificial board.
Annual wood trade between Vietnam and EU is US$650 – 700 million, or 12 – 15% of the nation's export value, according to Quyen.
The Vietnam – EU free trade agreement will become effective in 2018 and bring tariffs on wood products to zero, Quyen said, adding that the agreement is expected to lift trade to US$1 billion.
Meanwhile, To Xuan Phuc from the US-based Forest Trends, said Vietnam's wood and timber exports to the US, currently worth up to US$2.7 billion, might be affected by the US's policy of creating more jobs in the US.
The US, Japan, the EU, China and the Republic of Korea are the biggest importers of Vietnam's wood and timber products, accounting for 90% of the total value of the sector. The US makes up 42.7%, followed by China (14.1%) and Japan (13.7%).