Wood exports: rapid growth, great potential
30/07/2017
Being a key export commodity of the agricultural industry and bringing many billions of dollars, exports of wood and wood products are expected to continue to remain its stable growth with great potential.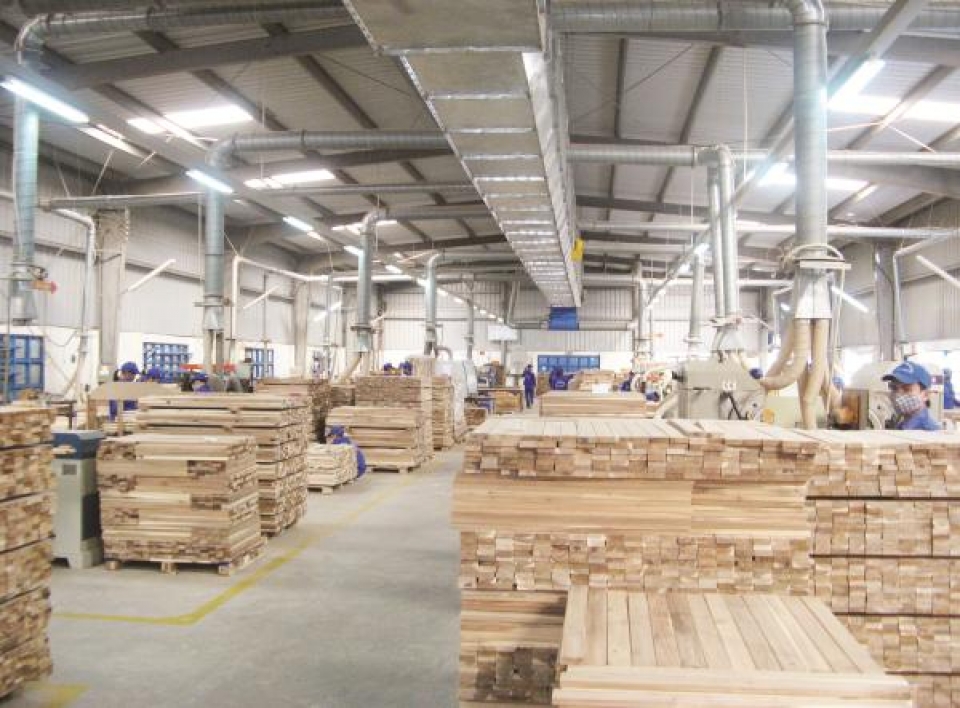 Be expected to hit US$ 7.8 billion
In many recent years, exports of wood and wooden products have grown rapidly. The data from the Ministry of Agriculture and Rural Development (MARD) showed that export value of wooden products and forest products rose more than 2 times, from US$ 2.8 billion / year in 2006-2010 period to US$ 6.52 billion/year in the 2012-2015 period. In 2016, the exports hit US$ 7.3 billion, including a trade surplus of US$5.4 billion.
In the first half of 2017, exports of wood and wooden products continued to have positive signs with an estimated export value of US$3.6 billion, a year-on-year increase of over 13%. The US, China, and Japan – the 3 largest importing markets of Vietnamese wood and wooden products, accounted for 69.6% of the total export value. Notably, wood exports increased strongly in many large markets such as China (over 30%), the US (16.8%), Korea (11.5%) and Germany (10%).
Looking at the "picture" of exports of wood and wooden products of the first half of the year, Mr. Nguyen Ton Quyen, Vice Chairman cum Secretary General Vietnam Timber and Forest Products Association (Vifores) said that the achievements were normal. In recent years, exports of wood and wood products had grown at an average rate of 10-15%. It is projected that this growth still remains in the coming time.
With the current export growth, the forestry industry forecasted that the whole year's exports of wood and wooden products will hit US$ 7.6-7.8 billion, a remarkable increase compared to US$ 7.3 billion of 2016.
Striving to an export value of US$ 8.5 billion
Regarding wood processing and exports, Deputy Minister of Agriculture and Rural Development Ha Cong Tuan stated that the target of the entire forest industry was that by 2020, the value of forestry production would average from 5.5 -6%; the forest plantation productivity increased to 20m3 / year; the export value of wood and wooden products reached US$ 8.0-8.5 billion.
To achieve the above target, the important tasks set out are developing the wood processing industry through supporting wood processing factories, high-tech forestry parks, and supporting industries; increasing investment ratio, developing forest infrastructure and service system to reduce costs for planting, exploiting, transporting and processing wood. Besides, management agencies also support to grant sustainable forest management certification with forest area of 100,000 hectares per year to ensure that Vietnamese wooden products are eligible for world's standards
The fact that, over the past times, MARD has actively organized the forest production according to the chain, encouraged the establishment of small and medium size enterprises, considered large enterprises as a center to link chains for key products, especially products for exports. Besides, enhancing to develop and multiplying cooperative economic models to facilitate farmers and households together with enterprises to organize forest production in the form of "large field"; promoting sustainable forest management and granting certification of plantation timber according to Vietnam's standards and international regulations and practices
Another notable point in performance of MARD to develop the wood processing industry is that the Ministry has actively integrated and fully implemented international commitments, issued measures to protect the domestic market, negotiate technical agreements and implement the VPA / FLEGT voluntary partnership agreement with the EU in order to expand the international market for forest product export.
Mr. Tuan added that: in order to forestry industry in general, processing and export of wood and wooden products in private develop sustainably, the MARD proposed the Government to give priority to allocate ODA projects for forest industry, particularly Central Highlands, Northwest and coastal areas; early consider and approve the project on sustainable forest restoration, protection and development in the Central Highlands in 2016-2025 and allocate funds for forest protection and development project in Muong Nhe district, Dien Bien province.
Moreover, the MARD also proposed the Ministry of Finance to review, amend and supplement circulars guiding the management and settlement of business capital and budget capital investment for implementation of forest protection and development plan in 2011-2020 according to Decision No. 57/QD-TTg to switch to Decision No. 886/QD-TTg dated June 16, 2017, of the Prime Minister.