In addition to the high content of vitamins, sesame seeds contain large amounts of natural minerals and organic compounds including calcium, iron, magnesium, phosphorus, manganese, copper, zinc, fiber, thiamine, vitamin B6, acid folic, protein, and tryptophan. So the benefits that sesame seeds bring to the health is also great.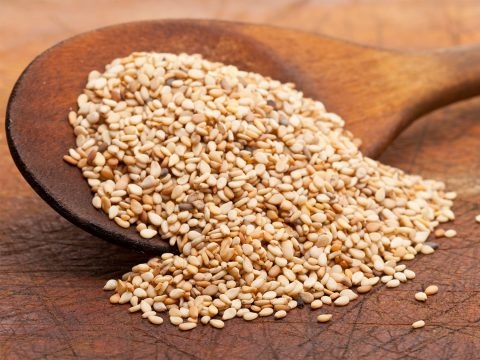 The following are some of the reference uses of sesame:
- Diabetes control: Once again emphasizing the important role of magnesium and minerals in sesame seeds, sesame seeds work to prevent and control diabetes in all kinds of conditions. Furthermore, some studies have demonstrated that sesame oil has positive effects in the treatment of type 2 diabetes. Sesame oil can improve and enhance the effects of medications on the condition, It regulates the amount of insulin and glucose in the body, which in turn can control the disease.
- Ingestion: As with other nuts, sesame seeds contain fiber. Fiber helps the digestive tract operate more smoothly, making food easier to digest. As a result, the body also avoids gastrointestinal diseases such as constipation, diarrhea, bowel diseases and at the same time prevent gastrointestinal cancer. In addition, fiber is an antagonist of harmful LDL cholesterol from animal fats, the fiber that removes these harmful cholesterol from the body to help you prevent cardiovascular diseases such as myocardial infarction, heart attack , stroke, atherosclerosis.
- Anti-inflammatory: Copper in sesame seeds has many effects, one of which is to support pain relief from osteoarthritis, muscles; It can also reduce osteoarthritis, muscular disease. In addition, copper is a mineral that is essential for the protection of blood vessels, bones and joints. In addition, copper is essential for the absorption of iron in the body.
- Oral health: sesame seeds have a strong impact on oral health. When rubbing sesame powder or sesame pounding on teeth will help you antibacterial and kill bacteria that stick on the teeth. Especially sesame seeds can prevent the activity of the main bacteria that cause tooth decay is Streptococcus bacteria.