Vietnamese, Cuban top legislators hold talks
15/06/2017
The two legislative bodies have consented to support and accelerate the implementation of cooperation programs and projects in the time ahead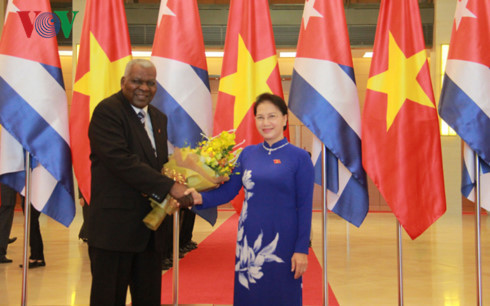 National Assembly Chairwoman Nguyen Thi Kim Ngan and her Cuban counterpart Esteban Lazo Hernandez held talks on June 12 in Hanoi, during which they agreed to boost legislative ties between Vietnam and Cuba through the exchange of all-level delegations and experience sharing.
The two NA leaders agreed to continue reviewing and updating existing cooperation documents and sign more agreements towards finalizing the legal framework for furthering bilateral relationship.
They expressed their resolve to elevate the two-way trade to a higher level on par with the close political ties.
The two law-making bodies will support and speed up the implementation of cooperative programmes and projects, particularly those in agriculture, consumer goods production, research and production of medicines, health care services, tourism infrastructure construction and energy.
They pledged to augment cooperation and offer mutual support at multilateral organisations and forums, especially the UN, in the interests of each nation, as well as for peace, stability and development in the region and the wider world.
vietnamese cuban top legislators hold talks
The Vietnam-Cuba and Cuba-Vietnam Friendship Parliamentary Groups will also intensify their exchange and seek specific measures to increase mutual understanding and consolidate the friendship and cooperation between the two NAs in the coming time.
NA Chairwoman Nguyen Thi Kim Ngan held that the Vietnamese legislature plans to promote parliamentary diplomacy, expand bilateral activities with other countries' parliaments and take an active role at multilateral forums and regional and international inter-parliamentary organisations.
She affirms Vietnam's determination to persistently pursue an external policy of independence, self-reliance, multilateralisation and persification of relations and intensive international integration.
The country will continue to work harder to contribute to maintaining peace and stability, while protecting sovereignty and territorial integrity on the basis of respect for international law, the Vietnamese top legislator said.
The NA Chairwoman also highlighted the reform efforts of the Vietnamese legislature towards transparency and publicity.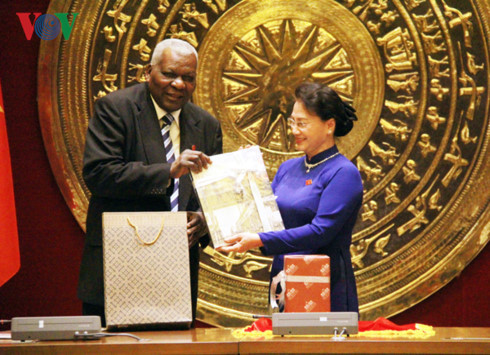 Ngan described the Cuban NA leader's visit as a new development of the legislative ties as well as the long-standing friendship and comprehensive cooperation between the two countries.
Esteban Lazo Hernandez, in turn told his host that the exchange of experience and delegations will help the two countries get a better understanding of each other and devise measures against challenges.
Cuba understands Vietnam's consistent stance on the international arena and will continue to stand side by side by the country, he stated.
The Cuban top legislator expressed his hope to learn from Vietnam's experience in 30-year reform, including legislative activities, especially at the grassroots level so as to deal with its current problems.
After the talks, the Cuban NA Chairman gave a speech at a plenary session of the third meeting of the 14th NA of Vietnam.
He thanked the Vietnamese people for their assistance to Cuba during hard times, especially when Cuba was isolated for defending viability of its socialism. The visit was vivid evidence of Vietnam and Cuba's special solidarity, Chairman Hernandez said.
"My visit is to strengthen Vietnam-Cuba cooperation. Cuba treasures its ties with Vietnam. Favorable geographical location, political stability, high-quality human resources, and advanced technology in biology and medicines are Cuba's advantages, which offer great potential to expand economic and trade activities with Vietnam," Hernandez noted.
"The visit reflects bilateral friendship and solidarity. The two legislatures will do all they can to tighten legislative relations as well as the special traditional friendship and all-round cooperation between Vietnam and Cuba,"Ngan replied.
Later on the day, NA Chairman Ngan hosted a banquet in honour of the Cuban NA Chairman and his delegation.