Vietnamese clothiers, shoemakers eye Australia for expansion
18/07/2017
Australia has a high standard of living and a population among which there is a strong demand for quality products from Asia, North America and Europe, said speakers on July 10 at a trade conference in Hanoi.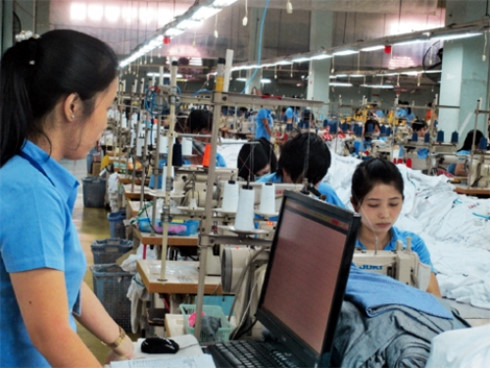 The land Down Under can also be viewed as a pilot market for Vietnamese clothing and footwear companies with an ardent desire to expand their exports and create a global brand for themselves, said Julie Holt.
Ms Holt, who is the director of the Australia International Exhibition and Conference Group, noted this is because an increasing number of Vietnamese companies that hope to get a toehold in the US market someday use Australia as a test zone.
The investment needed by a clothier or shoemaker to expand its footprint in Australia is much more limited than that required for the US and the models of consumption are very similar.
The proximity of Vietnam to Australia is also of benefit to keeping costs such as freight, insurance and other miscellaneous expenses less than they otherwise would be trying to gain market entry into the US, added Ms Holt.
Most importantly, she said, clothiers and shoemakers need to be aware that Australians value innovative, products made in an environmentally friendly manner as well as healthy products and are willing to pay more for these goods, which stands in stark contrast to Vietnamese consumption habits.
Australians, much like Americans, are also very receptive to imported products.
It is a multicultural nation with more than 170 different nationalities whose persity is continually growing. Approximately 92% of the population is of European origin (mostly English, Irish, Scottish, Italian and Greek), with 7% of Asian origin and 1% who identify as Indigenous Australian.
The language spoken is English and a Vietnamese company must have staff on board that can speak the language fluently to communicate with consumers, other vendors and readily grasp regulatory laws and regulations if it expects to have any chance at successful market entry.
Australians also prefer higher value quality products made from Australian wool, said Ms Holt, so it is important for clothiers to know all about what yarns to buy, how to dye wool, and finish fabrics or garments made from it.
This is a change from the cotton, acrylic and polyester materials that many Vietnamese companies are used to incorporating into their products.
Tran Thi Van from the Dong Xuan Knitting Company, in turn, said her company has had a great amount of success selling clothing made of wool in Australia over the past few years.
Ms Van noted that her company is currently heavily involved in establishing a supply chain focusing on purchasing wool directly from Australia for processing and reexporting finished products back to the land Down Under.
Ms Van specifically was happy to report that the wool products her company sells at Australia command a premium sales price.
Ms Van added that there is a tremendous upside for clothiers and shoemakers in the Australia market as the current trade figures are minuscule in relation to their full potential.
According to statistics of the General Department of Vietnam Customs, in the first quarter of 2017, Vietnamese clothing and footwear sales in Australia were only US$42 million and US$50 million, respectively, a tiny fraction of the expansive market.