Vietnam ships first batch of dragon fruit to Australia
25/09/2017
The first batch of Vietnamese dragon fruit has been exported to Australia by the Hoang Phat one member Ltd Co in the southern province of Long An announced the Ministry of Agriculture and Rural Development and Long An authorities on September 20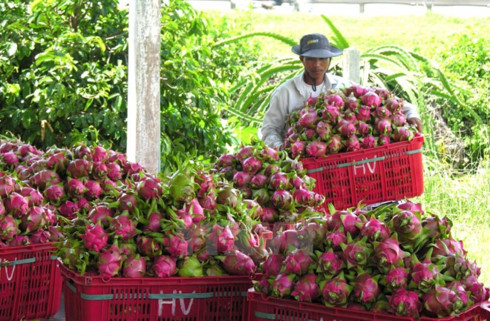 According to Hoang Phat Company Director Nguyen Thi Kim Thoa, the batch comprised 3 tonnes of white-flesh dragon fruit.
Deputy Minister of Agriculture and Rural Development Tran Thanh Nam said the export of the first batch of dragon fruit to Australia is an important event for the agricultural sector, marking the efforts of farmers, exporters and relevant agencies.
Pham Van Canh, Vice chairman of Long An People's Committee said the success opens the way for the province's fruit to enter other choosy markets. He added that at present, 80% of dragon fruit grown in Long An is shipped to China, 15% is sold on the domestic market and only five percent is exported to other markets including Japan, Thailand, the US and Europe.
He said the provincial authorities will provide more guidance to local farmers and exporters in improving production and preservation techniques to meet Australia's requirements.
Australia recently announced that it would permit the import of Vietnamese dragon fruit, making Vietnam the first country to get licence to export fresh dragon fruit to the country.
Dragon fruit is one of Vietnam's key export fruits, and saw export sales worth US$895.7 million in 2016, accounting for 50.3% of the country's total fresh fruit exports and 36.1% of its total fruit and vegetables exports.
Vietnamese dragon fruit has been exported to 40 countries and territories such as China, Thailand and Indonesia.
Long An province earns about US$40 million annually from dragon fruit export. The province has defined dragon fruit as one of its key crops, only after rice.