Vietnam seaport system: hold gold but lost
10/12/2017
The current reality shows that the port complex wortha"trillion"VND is invested, but has not yet fully utilised its capacity, which is wasting the investment budget and is a challenge for the goal of marine economic development to become a key factor.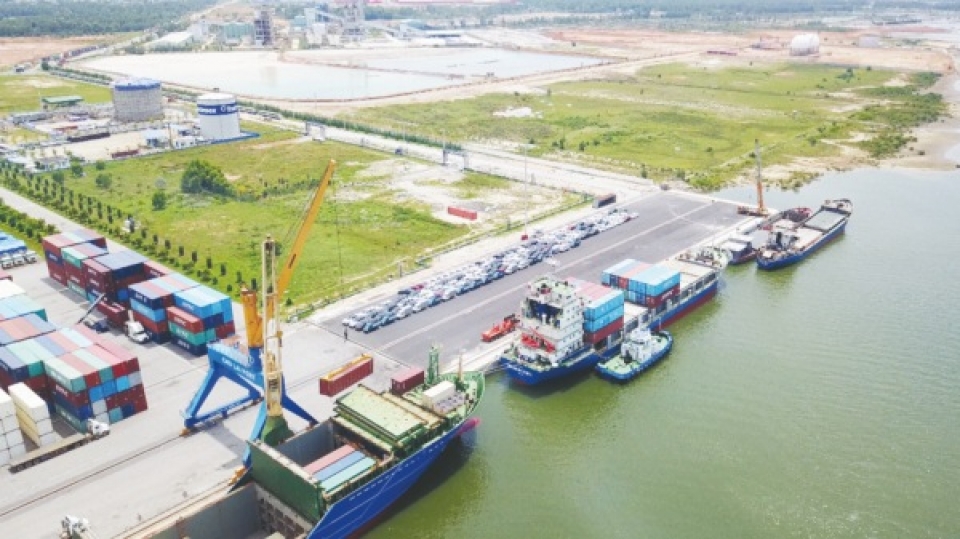 Difficult to overcome in a short time
According to the master plan for the development of Vietnam's seaport system in the period by 2020 with a orientation to 2030, which has been approved by the Prime Minister, by 2020 the national seaport system should meet aclearance of cargo flow ofnearly 1 billion tons per year and 1.6-1.2 billion tons per year by 2030. In addition, the Ministry of Transport has approved the detailed plan of six seaport groups in the Vietnamese seaport system, including: 39 seaports, of which 3 are 1A seaports (Van Phong international transshipment port, two international gateway ports atHai Phong and Cai Mep - Thi Vai port),and 11 ports of type 1.
So far, there are 44 seaports (250 wharves) with 59,405m long wharves, with a total designed capacity of 470-500 million tons per year. Most seaports are owned and managed by state-owned and privatelyowned enterprises. Only four new ports have been invested with state budget funds. In the recent period, the state still owns infrastructure ownership and rents. The Vietnam Maritime Bureau is the agency assigned to act as a representative to sign contracts for the lease of the wharf No.5, 6 and 7 ports of Cai Lan (Quang Ninh), Thi Vai ODA port and Cai Mep ODA port (Ba Ria - Vung Tau) and An Thoi harbor (Phu Quoc).
However, according to Mr. Doan Manh Dung, Vice Chairman and General Secretary of Ho Chi Minh City Marine Economics, the port investment has not paid much attention to the port connection system, causing many ports to be isolated. Most of the roads linking with seaports are degraded, and donot meetthe demand for transportation toports. In addition, we have not recommended the potentialsof the region and the world market in the plan. Our plan is based only on annual GDP to forecast cargo growth through ports in the coming years, but there is no data on transshipmentin the region. In addition, there is no connection between planning and implementation. Due to the long termuncontrolled market situation, this has becomeingrained in the whole system and we cannot overcome itin a short time.
Mr, Le Cong Minh, Chairman of theVietnam Seaports Association (VPA), said that according to theexperience of other countries, we should not focus on inspection in the port areas.87% of the countries inspect outside the port and often utilise the ICDs, theestablishments that carry out import and export procedures to implement specialized inspections. "But the hardest thing is that we do not currently have any specific planning on logistics, free trade zones, andother infrastructures, so we are very confused. Therefore, we recommend to push the specialised inspection out of the seaport", Mr. Minh said.
At the same time, instead of spreading investment, we should do it in synchronisation with infrastructure and port services. It is necessary to overcome the situation of inadequate port access roads, andthelack of a logistics support system... making port operation difficult. According to Mr. Minh, if we do it well, Ba Ria - Vung Tau will attract goods to the long routes such as the United States andEurope, and shipments to Asia will be transported through the port of Ho Chi Minh City.
Loss $US 2.4 billion per year
Further analysisofthe current shortcomings in the development of Vietnam's seaport system, VPA Secretary-General Ho Kim Lan said that we must concentrate on developing deep-water seaports for transshipment. We have a favorable geographic location and the Cai Mep – Thi Vai port is currently the only deep-water port in Vietnam that can accommodate 18,000 TEU capacity vessels. But now, more than 80% of Vietnam's import and export containers still have to use seaports and small vessels which wastesa lot of money and opportunities for owners' shipments.
According to Mr. Lan, a container instead of going to Cat Lai port,will save more than $US 300 per container if going to Cai Lai - Thi Vai port. Meanwhile, Vietnam's import-export turnover is more than $US 11 billion, therefore, enterprises are faced with high costs that cause losses of more than $US 2.4 billion a year due to the inability to use deep-water ports.
Notably, the specialised inspection at Cai Mep - Thi Vai port is only implemented by the customs offices, when it needs other units to come to carry out the specialised inspection, there is not oneavailable; ifthe requirement is necessary, it must invite and bear the extra cost. At the national key port where there is no inter-industry coordination for anon-site inspection, it is not encouraging to bring cargo or vessels to deep-water ports.
Along with that, the lack of transparency in service fees in many places is affecting the development potential of seaports and the competitiveness of Vietnam's export and import goods.
"It can be taken at Cai Mep - Thi Vai port for example, although internationally recognized as the leading port complex of Vietnam, andis one of 19 ports in the worldable to receive super-weight ships,thatover the past 10 years the port complex has not created profits.
So how do other investors dare to invest in Vietnamese seaports? And for10 years, there has been no foreign investment partners who have invested in Vietnam's seaports because of the management mechanism, which is still small", Mr. Lan said.