Vietnam's street food popular items now being served at chain restaurants
10/06/2017
Banh cuon (steamed rolled rice pancake), banh my (Vietnamese sandwich) and Mon Hue (Hue cuisine) are gaining even more popularity as they are being served at better restaurants.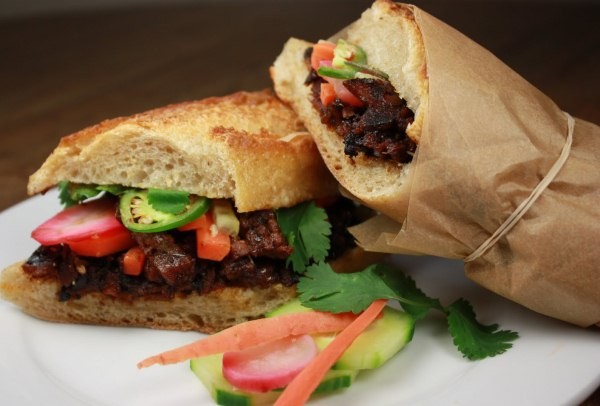 rom the first shop on Tran Huy Lieu street opened in October 2008, Banh Cuon Gia An has developed into a chain with 13 shops. Mon Hue has developed more rapidly than Gia An thanks to methodical investment, from shop decoration to menu design. Just within a short time, the brand has become known throughout Hanoi and HCMC. Huy Viet Nam, which was established in 2007. Besides Mon Hue, Huy Viet Nam also owns other Vietnamese food chains, namely Pho Ong Hung (Hung's pho) and Com Express.
In the fast food sector, Hoang Minh Nhat, the Master Chef 2014 winner, has developed a banh my brand which has conquered the hearts of Vietnamese and foreign customers. Quan An Ngon and Quan Ngon with their shop networks in Hanoi and HCMC have also been well known to customers. The owners of the brands have franchised the brand in Laos and Cambodia to bring Vietnamese food to Viet Kieu (overseas Vietnamese) in the neighboring countries. Vietnamese food chains are smaller than foreign owned chains, but they have great potential to develop. In April 2015, Huy Viet Nam successfully called for series C capital worth $15 million. Minh Nhat, with her banh my chain, targets young middle-class income earners who now have the habit of eating out. Nhat said Vietnamese sandwiches are known because of its crispy crust and special taste. However, analysts warned it is not easy to build up food chains bearing Vietnamese brands. Nguyen Thanh Tung, the owner of a food chain in Hanoi, has shut down one shop downtown, citing the high rent. Pho 24, after a period of development, has been transferred to a foreign investor. Once owning a large network with shops not only in Vietnam but also in overseas, it has gradually left the market. An analyst commented that the retail rent is not related to the business performance of the shops. The rent tends to increase because of the growing tendency of opening food shops. He said that the success of food shops depends on financial capability, corporate governance and marketing strategies. Vietnamese businesses are still weak in these areas.

Thanh Mai
Source: VietNamNet