Vietnam's export turnover to expand 8-10 pct in 2018
27/02/2018
Vietnam export growth in 2018 is hoped to be 8 10 percent higher than in 2017 according to a plan set by the National Assembly and the Government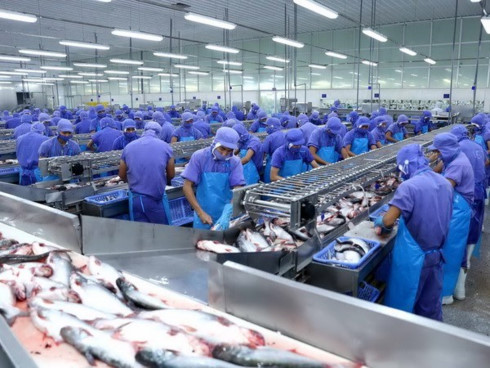 The country aims to keep its trade deficit below 3% of total export revenue.
Reports from the Ministry of Industry and Trade (MoIT) show that Vietnam earned US$19 billion from exports in January 2018, up 33.1% compared with the same period last year.
Export revenue of the domestic economic sector rose 31.6%, reaching US$5.41 billion while that of the foreign direct investment (FDI) sector expanded 33.7% to US$13.6 billion.
Notably, the processed industry's export turnover reached US$15.62 billion, a year-on-year increase of 34.6%, accounting for 82.2% of total exports.
Items mainly contributing to the export turnover in the period were phones and spare parts, garment-textiles, electronic products, computers, footwear, machines, equipment and tools.
Asia was Vietnam's largest export market with total turnover of US$10.81 billion, up 54.4% year-on-year, followed by Oceania, America and Europe with respective growth of 31.1%, 17.5% and 7.4%.
Meanwhile, Vietnam's exports to Africa fell 9.5% compared to the same period last year.
China remained the largest import market of Vietnam with turnover of US$5.7 billion, up 45.6% year-on-year. It was followed by the Republic of Korea, ASEAN, Japan, the EU and the US.
The ministry said global trade is predicted to grow by 3.9% in 2018 and this is expect to help Vietnam's trade growth.
The MoIT will work to devise measures to improve national competitiveness, thus creating a foundation for sustainable exports.
Efforts made by the Government to promote administrative reform, simplify investment procedures and support start-ups, are hoped to create more commodities for export, especially in terms of processing and manufacturing and heavy industry.
Vietnamese exporters of textiles, footwear, machines, equipment, tools and farm and seafood products will continue benefiting from free trade agreements between Vietnam and foreign partners.
Experts forecasted that exports posting high growth in 2018 will be farm produce, textiles and footwear, adding that Vietnam need to develop new products to create breakthroughs in exports, and reduce dependence on FDI enterprises.
Vietnam has 200 trade partners across the world with 29 export markets and 23 import markets.