Vietnam's beverage-led consumer goods sales hit three-year high in Q1
22/04/2017
"Manufacturers [with data] on rural trends and consumer demands will be best placed to capture growth opportunities."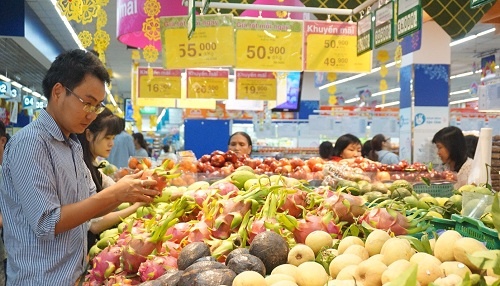 Fast moving consumer goods (FMCG) sales in the first quarter of 2017 grew 9.6 percent from a year ago, the highest rate in three years, with beverages accounting for more than half of the expansion seen in rural areas, Nielsen Vietnam said.
"The positive sentiment in Vietnam's Lunar New Year (Tet) helped drive FMCG growth as consumers were willing spenders and retailer sentiment improved," Nguyen Anh Dung, Nielsen Director of Retail Measurement Services, said in its Quarterly Market Pulse report released Thursday.
"It is the first time we have seen positive growth for three years," he said.
Fast-moving consumer goods refer to products that are sold quickly and at a relatively low cost.
The report, compiled by Nielsen, a global performance measurement company, is based on the results of a Nielsen Retail Measurement study of FMCG in six major categories: beverage, milk based, home care, personal care and cigarette.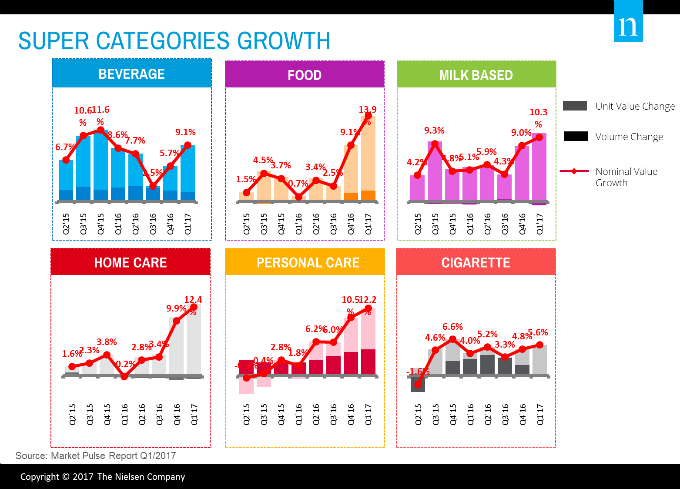 In the January-March period, half of the six super categories witnessed double-digit growth. Food rose 13.9 percent, followed by home care with 12.4 percent and personal care that grew 12.2 percent.
Milk-based gained 10.3 percent, beverage advanced 9.1 percent and cigarette grew 5.6 percent.
Beverage still accounted for a large proportion of total FMCG sales in the quarter at roughly 45 percent. Cigarette made up slightly below 19 percent and food accounted for 13 percent.
Growth in rural areas contributed 51 percent to the total FMCG sales nationwide in the first quarter, jumping 12.4 percent from a year ago, nearly double the 6.5 percent growth rate of urban areas.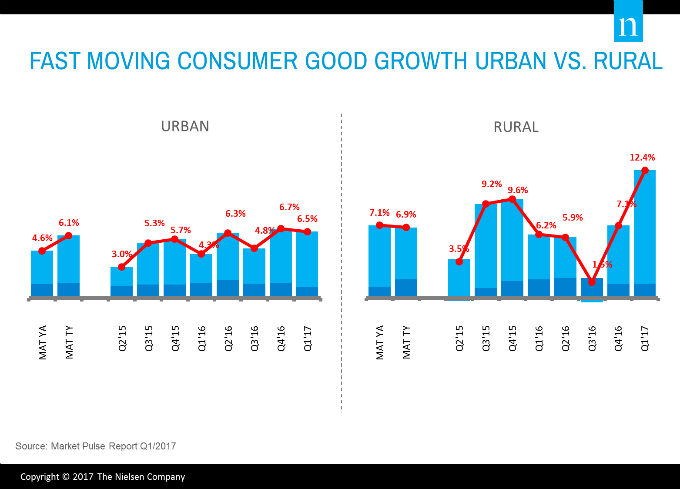 "Despite the slowdown in the rural sector due to agricultural challenges last year, the sector bounced back strongly," Dung said in the report.
More than 60 percent of Vietnam's population live in rural areas and there are excellent opportunities for companies in this sector, he said.
"Rural consumers have rising incomes and greater access to product information than ever before through the internet and their uptake of smart phones," Dung added. "Manufacturers that have access to the latest knowledge and information on rural trends and consumer demands will be best placed to capture growth opportunities."
The Market Pulse Report is published quarterly based on a Nielsen study in six cities: Hanoi, Ho Chi Minh City, Hai Phong, Can Tho, Nha Trang and Da Nang.