Vietnam pledges to facilitate Korean investment
10/12/2017
Deputy Prime Minister Trinh Dinh Dung has assured Vietnam's willingness to provide the best possible conditions for the Republic of Korea (RoK) investors, saying the country pins high hope on a new wave of Korean investment into Vietnam in future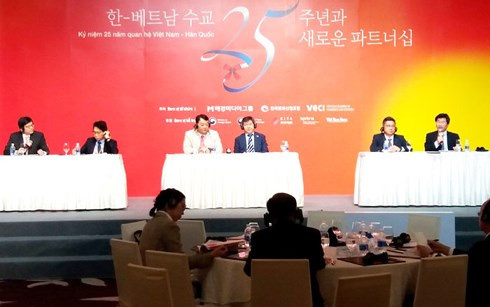 He was speaking at a Vietnam- RoK Economic Forum co-hosted by RoK's Maekyung Media Group and the Vietnam Chamber of Commerce and Industry (VCCI) in Hanoi on December 6 on the occasion of the 25th anniversary of diplomatic relations between the two countries.
In his address, Deputy PM Trinh Dinh Dung appreciated the initiative to hold the event and the active participation of numerous businesses from both nations, including leaders of major Vietnamese and Korean groups. This is a clear demonstration of effective, substantial, comprehensive cooperation between enterprises during the past 25 years, laying a firm foundation for further development of the strategic partnership between Vietnam and RoK in the time to come, he said.
The Deputy PM described the forum as an opportunity of paramount importance to review what have achieved over the past years, and clearly identify opportunities, advantages, difficulties and challenges so as to outline orientations and solutions for stepping up future bilateral cooperation across economics, trade and investment.
He also affirmed the Vietnamese government's strong determination to accelerate administrative reform and create a favorable business environment for investors on the basis of sound relations along with 25-year cooperation achievements recorded by both sides.
"The Vietnamese government is full of determination to further improve the business environment, facilitate Korean investments and seek ways to further augment effective cooperation between businesses. Vietnam believes that a new wave of Korean investment into Vietnam coupled with advanced technology of 4.0 Industry Revolution will bring the two countries' strategic partnership to a higher level for mutual benefit and common prosperity of the two peoples ", the official added.