Vietnam forecasts GDP growth of at least 6.5 pct in 2018, says 2017 target in sight
24/10/2017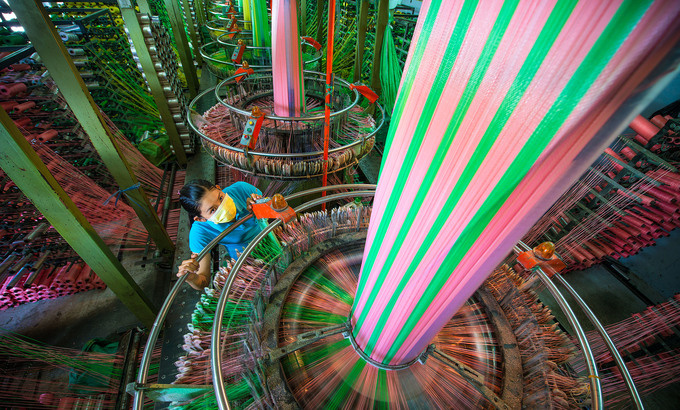 Vietnamese worker at a plastic bag factory. Vietnam's targeted growth of 6.7 percent this year is within reach, Prime Minister Nguyen Xuan Phuc told a parliamentary session on Monday.
The government's latest forecast is more optimistic than the World Bank's projection.
Vietnam expects economic growth of 6.5-6.7 percent next year, and thinks that the target of 6.7 percent set for this year is within reach, Prime Minister Nguyen Xuan Phuc said on Monday.
The country plans to keep inflation steady at 4 percent in 2018, the same expansion projected for 2017, Phuc told the legislative National Assembly at the start of its second session of the year.
After growing 6.2 percent in 2016, Vietnam's economy has been expanding faster this year, with growth quickening to 6.41 percent in the first nine months, according to government data.
The country has targeted export revenue growth of 7-8 percent and a trade deficit of below 3 percent next year.
To meet the 2018 goals, Phuc said local authorities should cut interest rates, ensure credit is available for enterprises and strengthen the management of the gold and foreign currency markets.
They should also implement tightened fiscal policies, intensify the fight against tax fraud, cut budget overspending and accelerate administrative reforms, he added.
In addition to strengthening economic growth, the government should take measures to control inflation and improve the investment environment, chairman of the National Assembly's Economic Committee Vu Hong Thanh said at the session.
The World Bank projects Vietnam's real GDP growth will accelerate slightly to 6.3 percent this year, boosted by buoyant domestic demand, rebounding agricultural production and strong export-oriented manufacturing.
Over the medium term, growth is going to stabilize at around 6.4 percent in 2018-2019, the bank said in an October report, which also raised growth forecasts for China, Malaysia and Thailand.