Vietnam expands fruit and vegetable export market
09/08/2017
Vietnam earned US$3.11 billion from exports of agro-forestry-aquatic products in July alone, bringing the total export value to US$20.45 billion so far this year.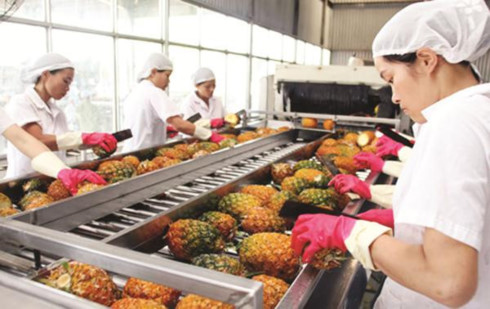 Key farm produce has raked in almost US$11 billion, up 18% against last year. Coffee and cashew nut exports showed stable growth in the period, while vegetable and fruit exports moved up to the third ranking behind aquatic products and forestry products.
By mid-July, fruit and vegetable exports totaled more than US$1.8 billion, of which fruit exports made up a majority. Blue dragon exports topped the list making up half of the total fruit export value.
Litchi exports recorded a remarkable growth. Bac Giang province, a center of litchi production, has improved the quality of the local specialty to penetrate demanding markets like the US, the EU, Japan, the Republic of Korea, and Australia.
Truong Van Thai, Deputy Chairman of Bac Giang's People's Committee, says:
"To avoid a common problem – falling prices when farmers produce a bumper crop - Bac Giang has zoned litchi-growing areas covering between 29,000 and 30,000 hectares. It has also increased the application of technology and safe production techniques, improved product quality, and studied consumer markets. Bac Giang has stepped up trade promotion, sought new markets, and linked processing and distribution to stabilize output and prices."
So far this year, Vietnam has shipped nearly 15,000 tons of fresh litchi to China and another 13 tons were exported to Australia.
Since early July, Luc Ngan litchi has been available in supermarkets in Thailand, one of the 5 largest fruit exporters in the world.
Tran Thanh Hai, Deputy Director of the Import-Export Department of the Ministry of Industry and Trade, said "Businesses need to pay more attention to promotion and brand building, the key to market growth. Nobody, including the state, can do this task for enterprises. What the state can do is to provide guidance, direction, and support for businesses. They should learn, build their own brands, and develop markets by themselves. But the point is that Vietnamese enterprises should link with each other to find a way forward and grow together."
Of the major markets importing Vietnamese fruits and vegetables, China still tops the list, accounting for nearly 75% of Vietnam's total fruit and vegetable export revenue. Other key export markets are Japan, the US, the Republic of Korea, and the Netherlands.
In the first half of this year, Vietnamese farm produce exports to traditional markets enjoyed stable growth. At the present growth rate, Vietnam's fruit and vegetable export value will exceed US$3 billion this year.