Vietnam can take a higher grade thanks to increased business connections
16/09/2017
Engage in activities that bring higher added value and promote the connection between Vietnamese enterprises and foreign investors and international markets can help Vietnam move up to a higher ladder in global value chains, which is drawn from two new World Bank reports.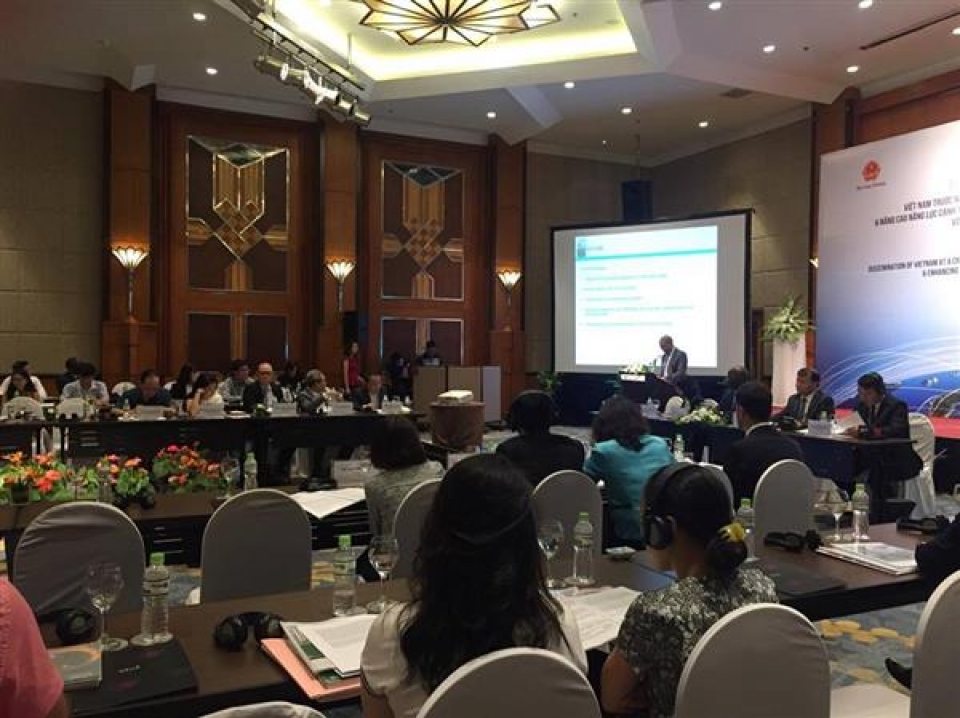 Two reports entitled "Vietnam at a Crossroads - New Global Value Chain Participation" and "Enhancing Competitiveness and Enhancing Connection between Small and Medium Enterprises with Foreign Investment Enterprises" which was launched at the Workshop on the Report released by the World Bank Group in cooperation with the Ministry of Industry and Trade in the morning of September 7 in Hanoi, showing potential growth in domestic industries if policy reforms were continue.
"Foreign direct investment has been a boon to Vietnam's growth, exports, and employment," said Mr. Do Thang Hai, Deputy Minister of Industry and Trade.
According to Mr. Hai, the contents of the conference and the recommendations of the two papers have shown many ideas on how Vietnam can participate in next-generation global value chains, and promote connections between Vietnamese enterprises and foreign investment enterprises.
According to the organizers of the workshop, some companies in electronics, automobiles, and motorbikes have successfully integrated into global value chains. However, in general, Vietnam has only focused on machining and assembling activities in the last stage of production and has not connected much with foreign invested enterprises.
The content of the two reports also shows that Vietnam can choose to go in the direction of diversifying and supporting the development of domestic enterprises that are spiritually innovative and have the potential to create the "Made in Vietnam" products. Policies and mechanisms to strengthen the capacity and technology of domestic enterprises will enable them to connect with FDI enterprises and reach out to the world market.
According to Mr. Ousmane Dione, Country Director of the World Bank in Vietnam, Vietnam has successfully integrated into several global value chains, thereby creating jobs, boosting economic growth and reducing poverty. However, the country can rise and improve its added value through reforms and policy initiatives in areas such as transport, services, border procedures and regional integration.
The reports also provide some key recommendations to help Vietnam move closer to its goals. It is to improve the coordination among ministries, facilitate the exchange of information and links between domestic and foreign enterprises, and provide targeted support to promote the strengths of a number of suppliers in the country.
If it reaches a higher position in global value chains, Vietnam can attract more large-scale foreign investment, thereby creating more jobs and opportunities for domestic suppliers. But to achieve that goal, the report says, there needs to be a comprehensive reform package.
The package includes: Bridging the gap between infrastructure by promoting private sector funding and adopting a more integrated approach to the development of transport corridors; Develop competitive service markets and liberalize regulations on foreign direct investment; Streamlining border procedures to improve transparency and predictability; Promote relations with developed countries to ensure strong demand and investment in technology.
Lessons learned in the country and abroad presented at the conference pointed out common points to get a good connection between domestic and foreign companies. It is the spirit of initiative and commitment at the policy level, complemented by good institutional and governance mechanisms. In addition, the strategy is built on evidence to promote connectivity programs, good databases of providers, services connecting businesses with businesses, vendor development programs based on demand.