Vietnam boosts trade promotion in Argentina, Paraguay
30/07/2017
The Embassy of Vietnam in Argentina and the Argentinean Confederation of Medium Enterprises CAME jointly held a business workshop in the country capital city of Buenos Aires on July 25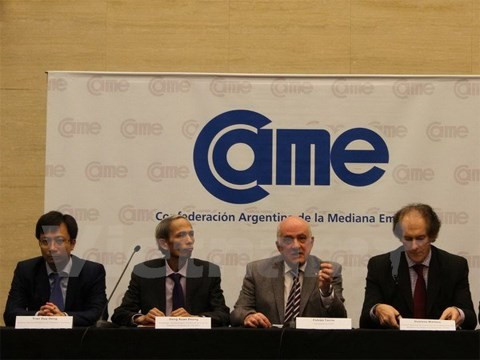 The event saw the participation of 60 enterprises from the two nations.
Addressing the opening ceremony, CAME President Fabian Tarrio highlighted Vietnam's potential and room for trade exchanges between the two nations, expressing his hope that CAME will become a bridge to connect the two sides' enterprises, contributing to raising their bilateral trade value.
For his part, Vietnamese Ambassador Dang Xuan Dung underlined the remarkable growth rate of 20% on average during 2012-2016 of the economic–trade relations between Vietnam and Argentina since the Vietnam – Argentina comprehensive partnership was established in 2010.
He noted that Argentina is one of the most important partners of Vietnam in Latin America.
According to the Ambassador, the 45th anniversary of the diplomatic ties in 2018 will be an important milestone in the long-term comprehensive cooperation between the two nations.
He suggested the two sides play a more active role in the Association of the Southeast Asian Nations (ASEAN) and the South America's Trade Bloc MERCOSUR, in order to help each other enter the market in those two regions.
Tran Duy Dong, Director of the America Market Department under the Ministry of Industry and Trade said Argentina is a potential market for Vietnamese key exports such as footwear, garment-textile, wood products, and handicraft.
Vice versa, with a population of nearly 100 million people and increasing purchasing power, Vietnam is also a promising market for Argentinean exporters, Dong said, expressing his hope Argentina will support the negotiation on a free trade agreement between Mercosur and Vietnam.
Gustavo Martino from the Argentinean Foreign Ministry lauded the dynamic development of Vietnam, particularly in manufacturing, and said the two countries' firms can connect with each other to bring their products to Asian and Latin American nations.
The event witnessed the signing of several contracts between the two nations' enterprises, mostly in wood materials and animal feed. Argentinean firms expressed their interest in Vietnam's garment-textile products, coffee and electric bulbs.
As part of a trade promotion programme in Argentina from July 23-27, the delegation of Vietnamese firms visited the 2017 Argentina Agriculture Fair and the Pilar Industrial Park in Buenos Aires.
Previously, the delegation held several trade promotion events in Paraguay, with the support of the Commerce Office under the Embassy of Vietnam in Buenos Aires.