Vietnam becomes largest shrimp provider in South Korea
11/06/2017
A year after the Vietnam - Republic of Korea (RoK) free trade agreement became operational, Vietnam is the largest shrimp supplier of the RoK, providing 49 percent of total shrimp imports.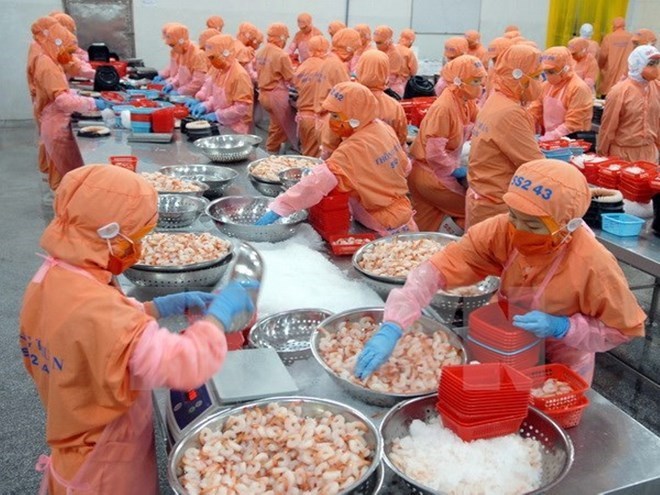 In 2016, Vietnam's shrimp exports to the RoK increased 13.6 percent compared to 2015. In the first quarter of 2017, the RoK's shrimp imports from Vietnam, Thailand and Ecuador rose 5.3 percent, 24.7 percent and 4.1 percent respectively.
The RoK is the fifth largest market for Vietnamese shrimp after Japan, the EU, the US and China. In 2014, Vietnam surpassed China to become the number one shrimp supplier in the RoK.
After a fall of 12.2 percent in January 2017, Vietnam's shrimp exports to the RoK grew 72 percent in February and 52 percent in March. In the first quarter of this year, Vietnam earned 61.8 million USD from the exports, up 30.8 percent over the same period last year.
According to the Vietnam Association of Seafood Exporters and Producers, Vietnam enjoys low import tax at 10 percent compared to other competitors such as China, India and Ecuador.
From April 1, 2018, a big change will affect Vietnamese shrimp exports to the RoK, as frozen shrimp imports will be required to show import certificates under adjustments in import regulations of the National Fishery Products Quality Management Service under the Ministry of Ocean Fisheries to protect the country's aquatic ecosystem.
According to Tran Van Pham, General Director of the Stapimex company in Soc Trang, from April 1, 2018, testing of seafood samples before exporting to the RoK will be implemented in Vietnam, which means Vietnamese firms will have to pay for the costly process.
To deal with the costs, enterprises will lower the price of seafood material, which will affect farmers and the whole sector, he added.

VNA