Trump says Vietnam-US trade should be a 'two-way street'
12/11/2017
The U.S. president has also told his Vietnamese counterpart Tran Dai Quang he was prepared to mediate between claimants to the East Sea.
U.S. President Donald Trump began his state visit to Vietnam on Sunday morning after ramming home a strong message on trade at an Asia-Pacific summit in the central city of Da Nang.
During a joint press briefing, President Quang said Trump's state visit marks a milestone in Vietnam-U.S. relations and sets the momentum for a more substantive and stable comprehensive partnership.
Trump also hailed the progressive relationship between the two countries, praising Vietnam's "beauty" and "hospitality".
He repeated his APEC speech themes of free Indo-Pacific trade relations, saying the U.S. is looking forward to "fair and reciprocal" bilateral trade with Vietnam. Vietnam is the U.S.'s biggest trade partner in Southeast Asia but the U.S.deficit with Vietnam has been a concern for Trump's protectionism policy.
"The U.S. is enthusiastic about reforms that promote economic transparency for all in Vietnam" and about looking to "remove unfair trade practices in the region," he said at the briefing.
Trump also called for cooperation in maritime security, counter terrorism and human and drug trafficking. He said he would discuss the "growing threat" from North Korea during the next stop of his Asia tour in the Philippines.
"All responsible nations must act now to make sure North Korea stops threatening the world."
"We want progress not provocation. We want stability not chaos, peace not war," he said.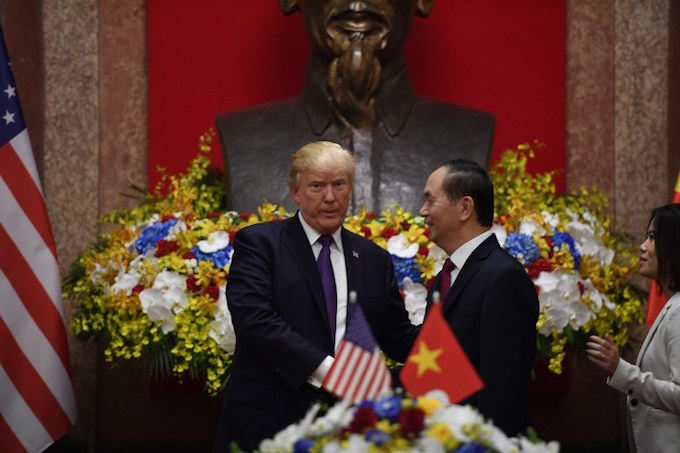 U.S. President Donald Trump shakes hands with Vietnamese counterpart Tran Dai Quang during a business event at the Presidential Palace in Hanoi on November 12, 2017
Before the press conference, Trump said he was prepared to mediate between claimants to the South China Sea (which Vietnam calls the East Sea), which include Vietnam and China.
"If I can help mediate or arbitrate, please let me know," Trump said in comments at the start of a meeting in Hanoi with Vietnam's president, Tran Dai Quang.
Trump acknowledged that China's position on the South China Sea, nearly all of which is claimed by Beijing, was a problem. "I'm a very good mediator and arbitrator," he said.
Trump touched down in Hanoi's Noi Bai International Airport on Saturday evening and attended a state dinner hosted by Vietnamese president Tran Dai Quang