Trump abandons global climate pact Paris accord; allies voice dismay
02/06/2017
Trump says pact would hurt economy, cost jobs, and other nations won't be 'laughing at us any more.'
President Donald Trump on Thursday said he will withdraw the United States from the landmark 2015 global agreement to fight climate change, a move that fulfilled a major campaign pledge but drew condemnation from U.S. allies and business leaders.
Trump, tapping into the "America First" message he used when he was elected president last year, said the Paris accord would undermine the U.S. economy, cost U.S. jobs, weaken American national sovereignty and put the country at a permanent disadvantage to the other countries of the world.
"We don't want other leaders and other countries laughing at us any more. And they won't be," Trump said.
"The same nations asking us to stay in the agreement are the countries that have collectively cost America trillions of dollars through tough trade practices and in many cases lax contributions to our critical military alliance," Trump added.
Supporters of the accord called Trump's move a blow to international efforts to curb the warming of the planet that threatens far-reaching consequences for this century and beyond. Former President Barack Obama expressed regret over the pullout from a deal he was instrumental in brokering.
"But even in the absence of American leadership; even as this administration joins a small handful of nations that reject the future; I'm confident that our states, cities, and businesses will step up and do even more to lead the way, and help protect for future generations the one planet we've got," Obama added.
"Today's decision is a setback for the environment and for the U.S.'s leadership position in the world," Goldman Sachs Group Inc CEO Lloyd Blankfein wrote on Twitter.
Trump said his administration would begin negotiations either to re-enter the Paris accord or to have a new agreement "on terms that are fair to the United States, its businesses, its workers, its people, its taxpayers." He in particular complained about China's terms under the agreement.
International leaders including the pope had pressed Trump not to abandon the accord.
Italian Prime Minister Paolo Gentiloni, German Chancellor Angela Merkel and French President Emmanuel Macron said in a rare joint statement the agreement cannot be renegotiated and urged their allies to hasten efforts to combat climate change. They pledged to do more to help developing countries adapt.
"While the U.S. decision is disheartening, we remain inspired by the growing momentum around the world to combat climate change and transition to clean growth economies," said Canadian Prime Minister Justin Trudeau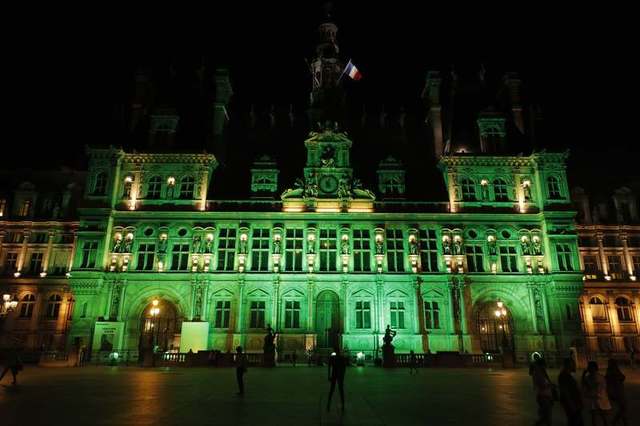 Green lights are projected onto the facade of the Hotel de Ville in Paris, France, after U.S. President Donald Trump announced his decision that the United States will withdraw from the Paris Climate Agreement at a news conference June 1, 2017. Photo by Reuters//Philippe Wojazer
With Trump's action, the United States will walk away from nearly every nation in the world on one of the pressing global issues of the 21st century. Syria and Nicaragua are the only other non-participants in the accord.
The United States was one of 195 nations that agreed to the accord in Paris in December 2015. Under the pact, which was years in the making, nations both rich and poor committed to reducing emissions of so-called greenhouse gases generated by burning fossils fuels and blamed by scientists for warming the planet.
"We're getting out," Trump said at a ceremony in the White House Rose Garden under sunny skies on a warm June day.
"I was elected to represent the citizens of Pittsburgh, not Paris," the Republican president said.
Pittsburgh's mayor, Democrat Bill Peduto, shot back on Twitter that his town, long the heart of the U.S. steel industry, actually embraced the Paris accord.
The spokesman for U.N. Secretary-General Antonio Guterres called the action a "major disappointment." The U.N. body that handles climate negotiations said the accord cannot be renegotiated based on the request of a single nation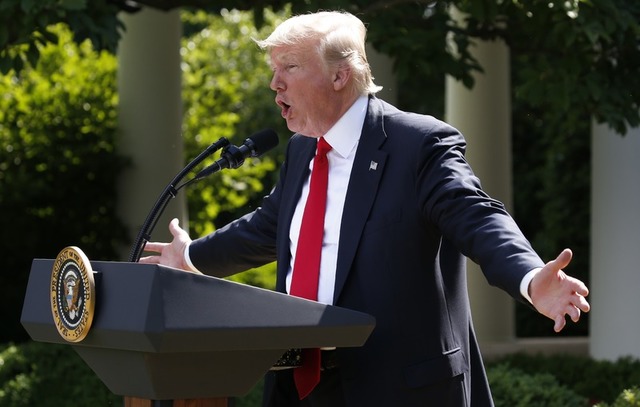 Green climate fund
Trump said the United States would cease payments to the U.N. Green Climate Fund, in which rich countries committed billions of dollars to help developing countries deal with floods, droughts and other impacts from climate change.
The White House said it will stick to U.N. rules for withdrawing from the pact. These rules require a nation to wait three years from the date the pact gained legal force, Nov. 4, 2016, before formally seeking to leave. That country must then wait another year.
Tesla Inc Chief Executive Officer Elon Musk said he will leave White House advisory councils after Trump's move.
"Climate change is real. Leaving Paris is not good for America or the world," Musk said in a Twitter post.
General Electric CEO Jeff Immelt said he was disappointed, adding, "Climate change is real. Industry must now lead and not depend on government."
Republican U.S. congressional leaders backed Trump. Senate Majority Leader Mitch McConnell applauded Trump "for dealing yet another significant blow to the Obama administration's assault on domestic energy production and jobs."
After a struggle within his administration, Trump followed the advice of Steve Bannon, a top adviser who specializes in managing Trump's populist appeal, and Environmental Protection Agency chief Scott Pruitt.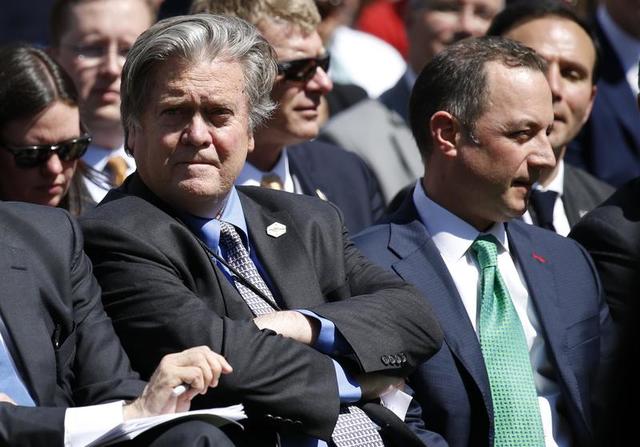 White House Chief Strategist Stephen Bannon (L) and Chief of Staff Reince Priebus (R) wait in the Rose Garden prior to U.S. President Donald Trump announcing his decision on whether the U.S. will remain in the Paris Climate Agreement, at the White House in Washington, U.S., June 1, 2017. Photo by Reuters//Joshua Roberts
'Devastating harm'
Democrats blasted the president's move.
Senate Democratic leader Chuck Schumer called the decision "one of the worst policy moves made in the 21st century because of the huge damage to our economy, our environment and our geopolitical standing."
U.S. Senator Bernie Sanders, who sought the Democratic presidential nomination last year, said: "At this moment, when climate change is already causing devastating harm around the world, we do not have the moral right to turn our backs on efforts to preserve this planet for future generations."
The United States had committed to reduce emissions by 26-28 percent from 2005 levels by 2025. The United States, accounts for more than 15 percent of total worldwide greenhouse gas emissions, second only to China.
Supporters of the pact said his move means the United States can no longer be trusted to fulfill international commitments. Trump's announcement fulfilled a campaign pledge. He has called climate change a hoax.
Leading climate scientists say greenhouse gas emissions trap heat in the atmosphere and have caused a warming planet, sea level rise, droughts and more frequent violent storms.
Scientists said U.S. withdrawal from the deal could speed up the effects of global climate change, worsening heat waves, floods, droughts and storms.
Last year was the warmest since records began in the 19th century, as global average temperatures continued a rise dating back decades that scientists attribute to greenhouse gases.