Transport Ministry considers concessions for investors in highways
11/06/2017
VietNamNet Bridge - Offering concessions to investors in transport and infrastructure projects is commonly applied in other countries, but it remains unfamiliar in Vietnam.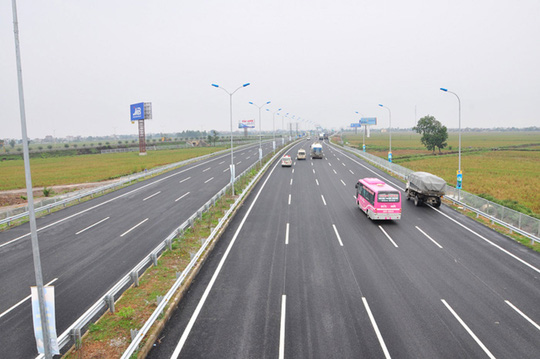 ietnam Express Corporation (VEC) has submitted to the Ministry of Transport (MOT) a plan to offer concessions for O&M (operation & maintenance) applied to the Cau Gie – Ninh Binh Highway.
The highway, 50 kilometers in length, kicked off in January 2006 and was put into operation in June 2012 with total investment capital of VND8.974 trillion. Under the plan, the investor would receive concessions for 30 years.
According to Mai Tuan Anh, VEC's general director, the corporation is the investor of six highway projects with the total length of 583 kilometers, three of which at a length of 350 kilometers have been completed and put into operation. The other projects are expected to be completed by 2019.
In order to build 1,000 kilometers of highway as planned, VEC needs to mobilize a huge amount of capital.
VEC is thinking of offering concessions to investors in the Cau Gie – Ninh Binh highway. Anh said in the context of increasingly high public debts and big difficulties in capital mobilization, offering concessions for a definite time is a reasonable solution.
The investors to be offered concessions must meet three criteria 1) having experience in O&M road projects 2) having financial capability and 3) having the capability to operate and exploit highway projects.
If chosen, the investors and the owners of the road will set up businesses – SPV (special purpose entity) to operate and exploit the Cau Gie – Ninh Binh project.
VEC wants to contribute capital and join the management of SPV to maximize capacity and experience of VEC and investors.
According to Anh, the concession value is defined based on the expected annual net income of the highway in the future, which is estimated based on revenue, operation cost, regular maintenance cost, capital structure and expected interest rate. The concession fee will be paid in three phases.
Regarding the investment capital structure, VEC has suggested that stockholder equity will be equal to 30 percent of the concession value, of which VEC will contribute 29 percent of capital, and strategic investors 71 percent. If so, the value VEC expects to receive from the concession is VND9.171 trilion.
Besides Cau Gie – Ninh Binh, VEC is also considering another O&M plan for the HCMC – Long Thanh – Dau Giay project, which, if successful, will produce capital to implement the Bien Hoa – Vung Tau highway project.
According to VEC, VINCI Concessions from France has shown interest in Cau Gie – Ninh Binh and a Japanese investor in HCMC – Long Thanh – Cau Giay.