"Transforming" the business households: Not as we wish
09/07/2017
If nearly 5 million individual business households in the country can be transformed into enterprises, Vietnam will have a large number of enterprises operating actively contributing to the socio-economic development. However, it is not possible to transfer to enterprises as well, can not be forced to convert to enterprises by administrative orders is the current state and the mind of the business households.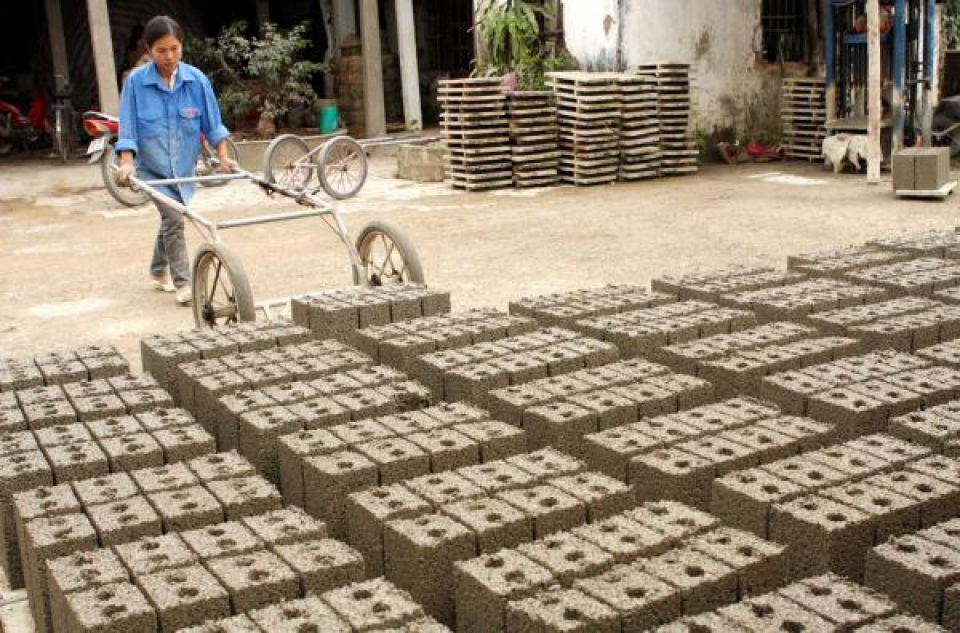 Careful considering
As a business household in the village, converted to a business since 2011, Mr. Do Hong Chieu, Director of An Huy Trading and Service JSC, Chairman of Ha Thai Lacquerware Association, Lacquerware Trade Village Ha Thai (Duyen Thai, Thuong Tin, Hanoi) share, as a business household, the production and business of the business is often small, spontaneous. As a result, the transformation into a large-scale enterprise has helped make the scale of production larger and more formal. In particular, in 2011, the establishment of the enterprise has received many incentives of the State for small, medium and micro enterprises as the tax rate of handicrafts exports 0%. This is a great advantage because of the current 70% of export products, the enterprise also helps enterprises have the legal status to facilitate the contract with domestic and foreign partners; in addition, the procedures for a tax refund, application for C/O, customs documents, must be a business can be done.
Moreover, many comments concern that the transfer to the enterprise will make production costs, commissioning increase, but according to Mr. Chieu, costs from household businesses to businesses are not too much. The economic value of craft villages is not as big as industrial enterprises, exporters etc, so the inspection problem is almost negligible.
However, the current situation, according to Mr. Chieu, Ha Thai Lacquerware Association has 100 members, but only more than 10 enterprises, the remaining households production, and business. "In fact, everyone wants to become a big business, but the key is to survive. Lacquerry requires elaborate, not regular consumer goods, so this phase is difficult. Moreover, the profession is divided into many stages, into a production chain, there are people doing business to become a business, some people do the production, only the type of business households," Mr. Chieu shares.
Speaking more about this issue, Mr. Do Van Binh, head of production and sales of worship products (Hanoi) said that business households still have difficulties in terms of capital and production premises. Households also want to grow a business but are wondering about the cost of the tax. At present, the fixed license fee that Mr. Binh's household business has to pay is less than 1 million VND per year and the owner himself can make accounting records. But if upgrading to businesses, Mr. Binh is afraid to have to carry a series of accounting papers and the tax rate will also increase, not to mention, he also has not grasped the procedures, as well as preferential information for local businesses.
Need specific mechanism
The good point is that the Law on Small and Medium Enterprises will come into force in 2018 with more preferential policies for business households to convert into enterprises. Ms. Pham Thi Thu Hang, Secretary General of the Vietnam Chamber of Commerce and Industry (VCCI), said that the Small and Medium Enterprises Promotion Law has many provisions affecting business households, creating a premise and legal framework. It is important for the State to support the development of enterprises. However, the effectiveness of the implementation will be lagging policy, so it is important that local policies are implemented by the majority of households operating in the locality. If the locals do well, creating a favorable business environment for enterprises to operate, the households will switch, not necessarily wait for the Law.
In general, experts and business households are eager to change business household into a business should use the "economic leverage" rather than "administrative orders", not many business households proposed Specific mechanisms. Mr. Do Hong Chieu said that Decision 31/2014/QD-UBND of Hanoi People's Committee on policies to encourage the development of craft villages in Hanoi has put Ha Thai lacquer on the list of craft villages. It is necessary to develop and adopt a specific policy mechanism, so that all business households wish to have such specific policies, such as encouraging development and investment in the tourism sector. "In general, this may be true of the place, but it is not suitable for the other place. Administrative orders are necessary, but they must have methods appropriate to each profession." Mr. Chieu said.
In particular, sharing the experience of setting up a business establishment abroad, Mr. Do Hong Quan, the owner of a beverage production facility in Ghana, said that the establishment of business units and enterprises overseas was supported in various ways such as premises or capital etc. So, the state must help reduce the pressure on business households, helping business households feel safe and profitable, then they will certainly voluntarily switch.
Therefore, Ms. Pham Thi Thu Hang said, in the future, VCCI will carry out many activities, organize training courses on starting businesses. This will help business households to realize how to comply with the law, business conditions etc. VCCI will also coordinate to guide business households to implement the regime Accountants or law enforcement to facilitate the business households to upgrading into businesses.