Textile industry is confident in growth
16/09/2017
In the context of many difficulties, the export growth of Vietnam's textile is quite good thanks to the efforts of enterprises in increasing productivity, expanding markets and raising prices.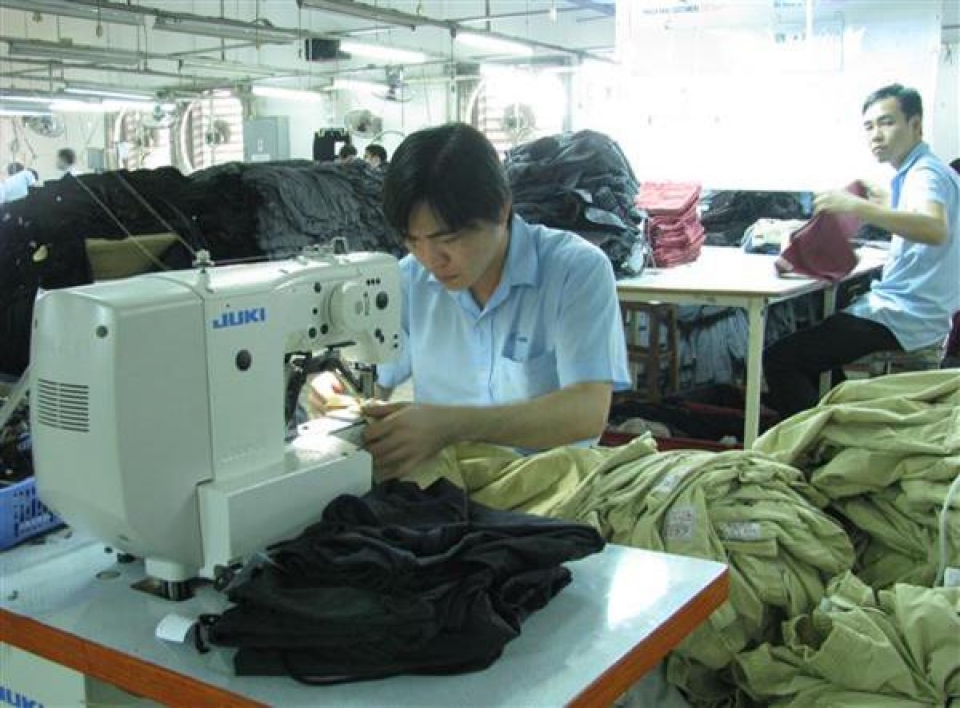 Be proactive as in difficulty
From the beginning of the year, Vietnam's textile industry has exported $US 19.8 billion, increased by 9.9% compared to the same period in the last year and completed 66% of the total plan for the whole year. Mr. Vu Duc Giang, chairman of Vietnam Textile and Garment Association, said that this is a great effort of textile and garment enterprises in the context of facing a series of difficulties and challenges. In which, the biggest challenge is the breakdown of TPP that effects on the flow of investment in the field of spinning, weaving, dying, series of projects have been stopped over time. Besides, Vietnam – Eu free trade agreement has not been approved by 27 EU member countries. In addition, the prices of Vietnam's textile products are subjected to higher input costs than some countries in the region, including salary, social insurance, health insurance policies. In which, social insurance and health insurance are 2.5 times higher than other countries in the region. Vietnam also is impacted by the antidumping policy of colored yarn, polyester fiber of several countries.
In the context of difficulties, Vietnam's textile, dying and sewing factories have applied modern management models. This will help Vietnam's textile industry increase labor productivity to a relatively high level compared to other countries. Currently, Vietnam's textile and garment products have been able to compete on price, delivery time and quality of products with other countries. Therefore, in the development strategy of Vietnam's textile industry in the period 2017-2025, Mr. Giang said that Vietnam's textile and garment exports will reach $US 100-110 billion by 2025.
Besides the traditional markets of Vietnam such as the US, the EU, Japan, and South Korea, over time, Vietnam's textile enterprises have been proactive to access new markets such as South Africa, North Africa. Since 2017, Vietnam's textile products have been exported to these markets, especially yarn products. Besides, Vietnam also has many factories producing clothes for Muslims and has started exporting to the Middle East market in the past two years.
Especially, Mr. Giang shares that, the value-added content of Vietnam's textile products has been increased sharply. Specifically, in the past, Vietnam's enterprises mainly outsourced on the basis of customer samples, then Vietnam's enterprises calculated the norms, prices and offered back. However, currently, the method of outsourcing is not popular, replaced by the FOB and ODM forms. Now, instead of transferring samples to Vietnam's enterprises, customers implement in 3 modes: Firstly, foreign companies put their ideas and drawings on mail. Depending on the samples, Vietnam's enterprises will calculate the price. The second is Vietnamese enterprises design 100% and then offer to sell to customers. The third is online auctions. Accordingly, around at 1 am, Vietnamese enterprises will participate in online auctions for clothing contracts. "Customers do not want to spend money on design, we must do it all then sell to them", Mr. Giang said.
Make the balance in the shortage supply
Another positive point of the textile industry is the resurgence of a series of weaving and dyeing projects after a pause time due to a shock from the TPP. In addition, according to the Vietnam Textile and Garment Association, from the beginning of the year, the investment into the textile industry has reached approximately $US 2 billion, of which $US 750 million is from FDI. Typical is a factory producing polyester and synthetic fiber billion invested by Chinese enterprises in Tay Ninh with a total investment of $US 220 million. Along with that, capital-raising projects such as the Polytex Far Eastern Limited Company (Taiwan) increased $US 485.8 million; Tainan Spinning Co., Ltd. (TAI) in Long Khanh Industrial Park (Dong Nai Province) has increased $US 50 million to its project. Many Vietnamese enterprises are also promoting investment such as Bao Minh Textile Factory (Bao Minh Industrial Park - Nam Dinh) has invested about $US 75 million in the production of high-quality fabric, by March 2018 it starts operating.
Mr. Vu Duc Giang says that the above positive has shown that investors still see opportunities when investing in Vietnam. Accordingly, despite the absence of TPP, Vietnam still has many other free trade agreements (FTAs) such as the Vietnam -EU FTA, the Vietnam - South Korea FTA, the Japan -Vietnam FTA, the Vietnam – Eurasian Economic Union FTA… Besides, most of the new investment projects and capital-raising projects over the past time are concentrated in the yarn, textile and dyeing industries, opening up opportunities for Vietnamese textile industry to balance its shortage supply of yarn, weaving, dyeing, thereby improving the value of textiles. Accordingly, Mr. Giang affirmed that in the period 2018 - 2020, the textile industry will remove the "bottleneck" for the yarn, weaving, and dyeing.