Textile and garment industry undergoes restructuring
25/06/2017
Restructuring the textile and garment industry involves drawing up a new development strategy, using new technologies, and closing fiber and textile factories that use outdated technologies.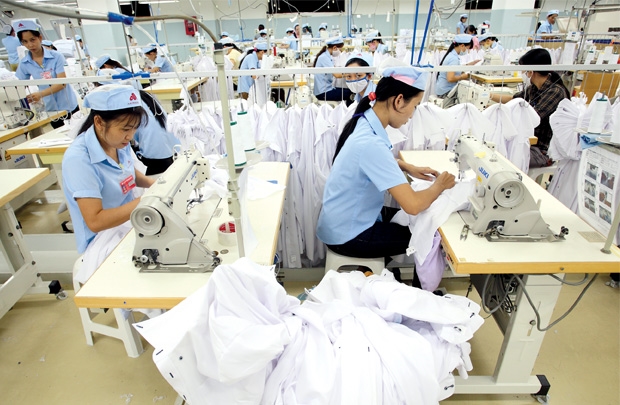 The Nam Dinh Textile & Garment JSC has undergone 'major surgery'. The number of workers has been cut from 18,000 to 4,000. However, the remaining workers' output equals that of 18,000 workers in the past.
The textile & garment industry has been improving satisfy the requirements of global value chains. The productivity has improved thanks to renovation of machines and equipment and the removal of factories with outdated technologies.
However, many things still need to be done.
MOIT is going to submit to the government a plan to restructure industry in general in 2016-2020, which includes the textile & garment industry.
Commenting about the plan, Le Tien Truong, deputy chair of the Vietnam Textile & Apparel Association (Vinatas) said the figures shown in the plan were not reliable.
The plan, for instance, says that productivity is VND35-40 million a year, while Truong believes the figure is inaccurate and it is lower than the real figure.
If noting that Vietnam exported $28 million worth of textiles & garments in 2016 and imported $17 billion worth of input materials, the average productivity would be VND140 million per worker.
The plan shows several targets such as repositioning enterprises geographically and shutting down factories with outdated technologies, but it does not include implementation measures.
There are three ways to improve productivity in the textile & garment industry, according to Truong.
First, using few workers and high-productivity machines. Second, shutting down unprofitable enterprises and reducing the number of enterprises consuming a lot of power. Third, adjusting the product structure to choose enterprises with higher added value.
Truong Duy Hung, director of MOIT's planning department, the compiler of the plan, believes the weak point of textile industry is the lack of input materials.
Analysts say that if Vietnamese enterprises make input materials, their products would be able to replace Chinese products and can compete with Chinese products in price.
In current conditions, however, it is easier and faster to seek input materials from China than domestic sources. This is because China organizes large-scale production and always has large stocks, while Vietnam only makes products to order.
Vietnam earned $6.84 billion from garment and textile exports in the first quarter of this year, 11.2 percent more than in the same period last year, according to Vinatas.