Steel to join Vietnam's major export lines
25/04/2018
Steel will be included in the country's key export items besides fruits, garment and textile, footwear and seafood products, an official from the Ministry of Industry and Trade has said.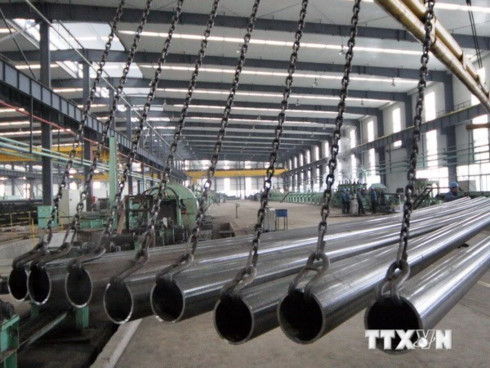 "Like fruits, steel is a commodity which has made a strong export growth in recent time," Tran Thanh Hai, Vice Head of the Import-Export Department of the ministry said. Export turnover of steel in 2017 reached 3.15 billion USD, an increase of 55.4 percent over 2016, mainly steel products, steel billets, and construction steel and steel pipes.
"The steel industry will grow by 20-22 percent in 2018," Vice President of the Vietnam Steel Association Nguyen Van Sau said at a conference in Hanoi on April 24 on promoting Vietnam's exports in 2018.
He forecasted that construction steel will grow by 10 percent, cold rolled steel by 5 percent, steel welding pipe, 15 percent, and production of coated steel and paint by 12 percent.
Explaining the bright prospects for the steel industry in 2018, the Vice President said the government has set a target of 6.5-6.7 percent growth for the country. "Many infrastructural, construction and real estate projects will be deployed so the demand for steel continues to increase."
Vietnamese steel has, however, faced severe competition from other countries, especially China. China's steel output increased more than 12 times in 25 years to 803.83 million tonnes. Therefore, the neighbour has become a big competitor to many countries, including Vietnam.
In addition, the country's steel industry has been dealing with anti-dumping tax and subsidy measures from such countries as the US, Canada, Turkey, Malaysia, Thailand, Indonesia.
According to the Import-Export Department, Germany, the US, and Cambodia are potential markets for Vietnamese steel as they have good growth and high market demand. Particularly, the German market is the gateway for Vietnamese steel to go to the EU.