Smart home – multibillion dollar market for technology firms
09/05/2017
The smart home created by the Japanese painter Fujiko Fujio in the famous cartoon Doraemon in 1969 has become a reality in the 21st century.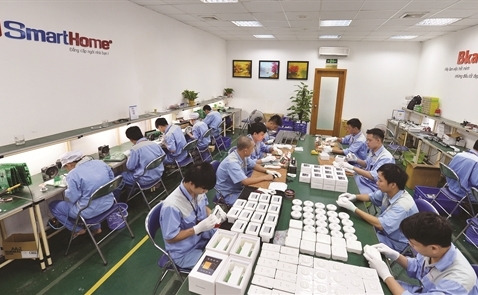 BKAV pioneered smarthome solutions in 2013, announcing that it spent 10 years to develop the technology, both hardware and software. The solution was introduced at CES 2015 in the US and many other technological exhibitions. With BKAV solution, all the systems of the home, from lighting system to water supply, air-conditioning and TV are connected with electronic regulatory units to link with the internet and mobile phones, thus allowing homeowners to regulate the systems from a distance. Following BKAV's steps, other technology firms have created many smart devices, thus making the smart device market, or 'home automation', develop strongly in recent years. In 2016, a group of young students from the HCMC University of Technology decided to develop a solution which controls home electrical systems with Android phones. This led to the establishment of Vsmarttek JSC in the HCMC Hi-tech Partk.
Vsmarttek is going the same way that entrepreneurs in the same field from the Hanoi University of Technology once experienced with Lumi products. Most recently, Onsky, a privately run company with the head office in Silicon Valley, introduced a series of home smart devices with hardware and software designed by Vietnamese engineers. The presence of Vsmarttek, Onsky and Lumi shows the relatively high demand in the home automation market. The solutions have an outstanding advantage that the cost is reasonable, affordable to Vietnamese families, at VND9-40 million. Besides the Vietnamese brands, the domestic market also has products bearing foreign brands, from expensive ones such as Schneider, Smartg4, Arteor, My Home and WattStopper to low-cost imports from Taiwan and China. The products are diverse, from automatic lighting devices with sensors and smart contacts to solutions to regulate lights, fans and air conditioners with smartphones. According to Vu Thanh Thang, vice president of BKAV, there is a clear difference between 'smarthome' and 'home automation'. Smarthome solutions, in the true sense of the word, include many advanced technologies and devices, hardware and software, and the artificial intelligence to satisfy the requirements. Clients decide whether to spend money on smarthome or home automation. In fact, high prices remain a big barrier for smarthome development not only in Vietnam. A Buzz survey in 2016 found that 31 percent of Americans did not use smarthome solutions because they were too expensive.
Chi Mai
Source: VietNamNet