Samsung sets up logistics company as market heats up
10/08/2017
Setting up a logistics joint venture with Minh Phuong, Samsung has shown that it wants to jump into a new business field in Vietnam. But the move may trigger a new war in the domestic logistics market.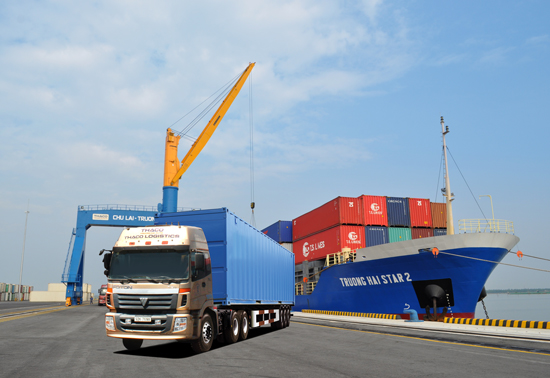 For the majority of Vietnamese, Samsung means smartphone, TV and washing machine. However, the South Korean investor has been taking steps towards the logistics markets.
Before joining hands with Minh Phuong, Samsung teamed up with ALS, also a logistics company, to manage the goods terminal at Noi Bai Airport, one of the two largest airports in Vietnam.
Samsung's involvement in the management at the goods terminal at Noi Bai helps Samsung ensure delivery time and smooth operation of the supply chain. Noi Bai is the biggest export portal for Samsung's electronic exports manufactured at its two factories in Bac Ninh and Thai Nguyen.
However, the cooperation with Minh Phuong is another story. The owner of the company was once praised by Bloomberg as the 'logistics Queen' of Vietnam. To take part in the domestic logistics market, where road transport makes up 65 percent of the market share, joining hands with Minh Phuong was the most efficient choice.
MOIT estimates that the logistics service market in Vietnam is worth $20-22 billion a year, which accounts for 20.9 percent of the country's GDP.
Transport services alone, which account for 40-60 percent of total logistics costs, is a vast market.
The great potential of the market explains why foreign companies, including DHL Sypply Chain, Maersk Logistics, APL Logistics, Nippon Express and Kerry Logistics, have been in Vietnam for many years.
In marine and air transport connecting Vietnam with international markets, foreign companies now hold the upper hand. Meanwhile, in the domestic logistics market, local enterprises are still dominant.
According to the Vietnam Logistics Firms Association, there are over 1,300 operational logistics firms, including foreign invested ones.
Le Duy Hiep, chair of the association, denied that 80 percent of the revenue of the logistics market goes to foreign invested enterprises' pockets. In fact, Vietnamese enterprises undertake most of the services such as port exploitation, domestic transport and storage.
However, he said Vietnamese enterprises feel pressure from foreign service providers. Samsung is not the only foreign investor setting up a joint venture with a Vietnamese company to obtain domestic market share.
DHL and Kerry Logistics, Yusen Logistics and Logitem have been in Vietnam for a long time. In May, Korea Economic Daily reported that Tae Kwang Industrial wants to buy a stake in Gemadept, a big company in the marine transport sector in Vietnam.