Russia's Putin arrives for APEC as Da Nang expects Trump and Xi in hours
10/11/2017
Leaders from Australia, Japan and New Zealand touched down in the central coastal city on Thursday night.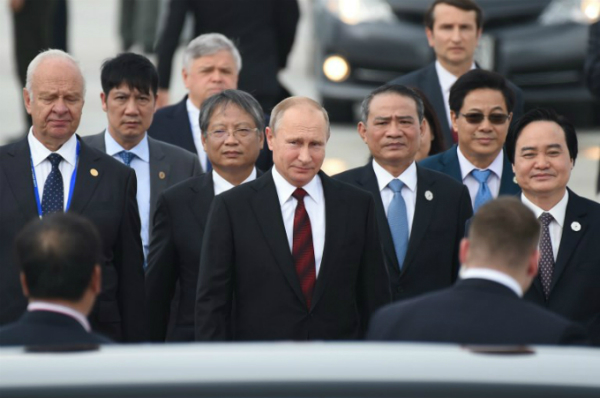 Russia's President Vladimir Putin (C) arrives at the international airport ahead of the Asia-Pacific Economic Cooperation (APEC) Summit in the central Vietnamese city of Da Nang on November 10, 2017. Photo by AFP/Ye Aung Thu
Russia's President Vladimir Putin touched down in Da Nang at 9 a.m. on Friday morning, right ahead of his counterparts from the U.S. and China, who are expected in the early afternoon, as the city is rolling down to some biggest meetings of the region.
Putin, 65, who is in Vietnam for two days to attend the Asia Pacific Economic Cooperation (APEC) Summit, was greeted by Da Nang's Party Chief Truong Quang Nghia and and Vietnam's education minister Phung Xuan Nha.
As the Russian delegation left Da Nang International Airport, crowds of people were already lining the streets, waiting to catch a glimpse of the Russian president.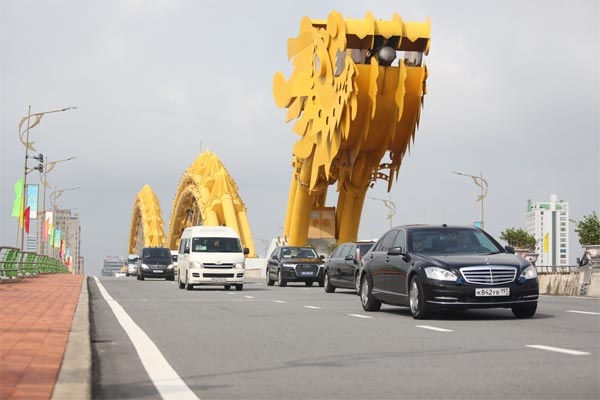 The Russian delegation crosses Da Nang's iconic Dragon Bridge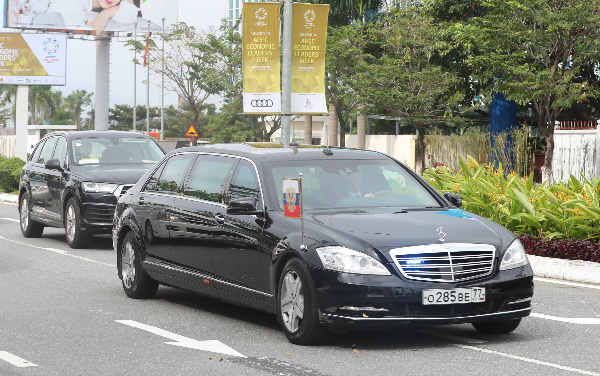 The car carrying President Putin in Da Nang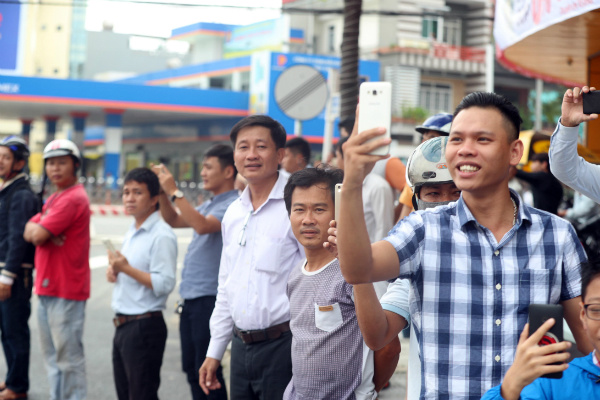 China's President Xi Jinping and U.S. President Donald Trump are scheduled for arrival in several hours, while leaders from Canada, Indonesia, South Korea and Singapore will come later today.
The APEC Leaders' Week opened on Monday and Da Nang has been in high anxiety to welcome leaders from 21 member economies.
James Soong, Chairman of the People First Party of Taiwan, has been in town since Tuesday.
On Wednesday, President Peter O'Neill of Papua New Guinea, which will host the APEC Summit next year, arrived along with Filipino President Rodrigo Duterte, who will be giving a speech on economic integration.
The presidents of Peru and Mexico and the chief executive of Hong Kong touched down in Da Nang on Thursday morning while Brunei's Sultan Hassanal Bolkiah arrived in the afternoon.
Many others arrived on Thursday night.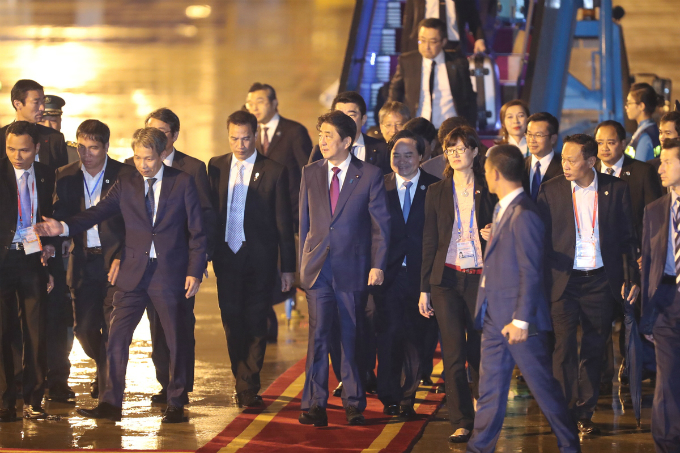 Japan's President Shinzo Abe touches down in Da Nang on Thursday night
Chile's President Michelle Bachelet arrives in Da Nang.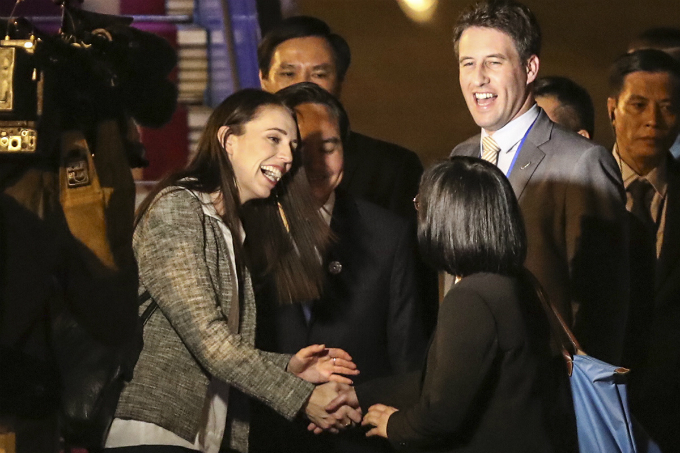 New Zealand's Prime Minister Jacinda Ardern is in town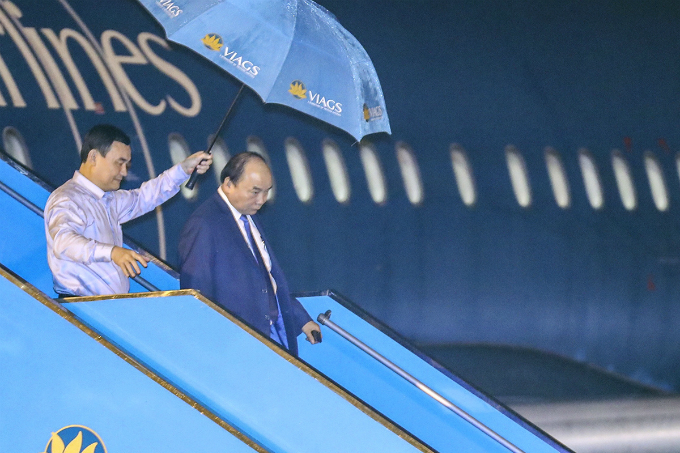 Vietnamese Prime Minister Nguyen Xuan Phuc also joins his guests on Thursday night.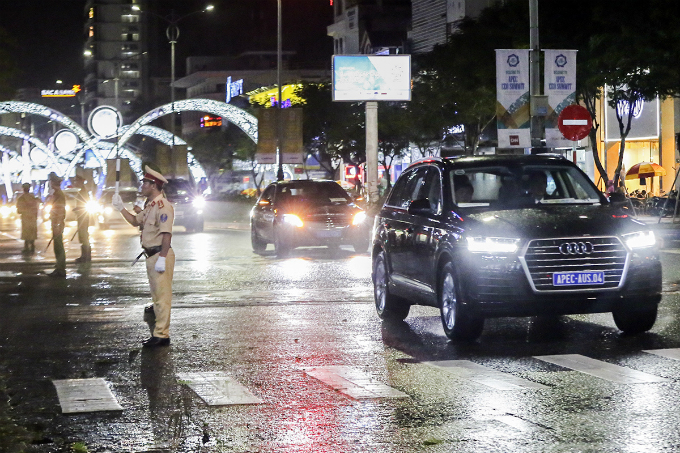 The Australian delegates.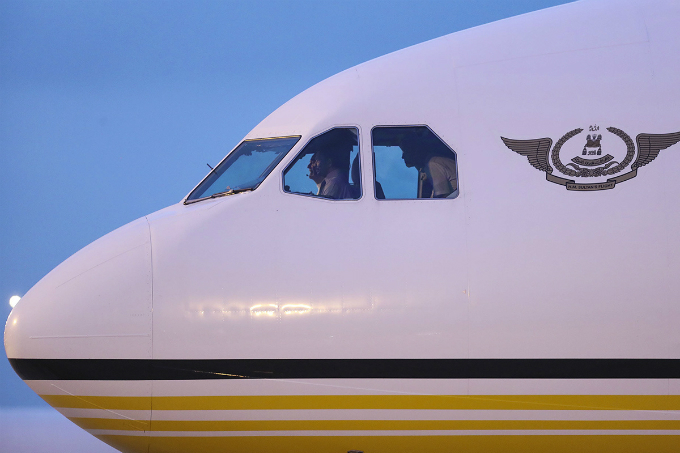 Hassanal Bolkiah, Sultan of Brunei, is seen in the pilot seat as his aircraft touches down in Da Nang on Thursday afternoon.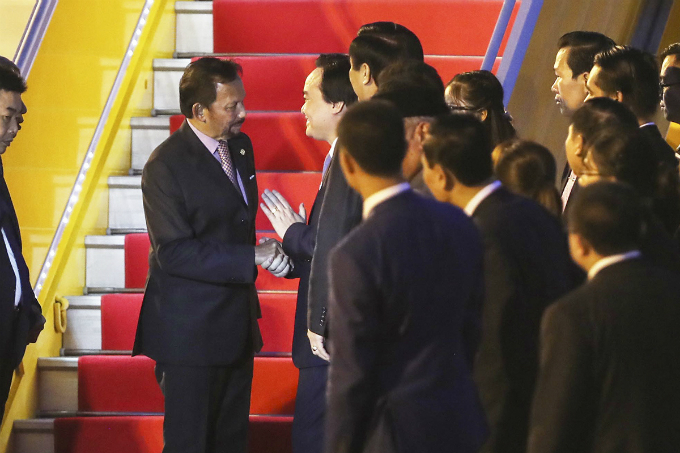 Brunei's Hassanal Bolkiah is greeted at Da Nang Airport.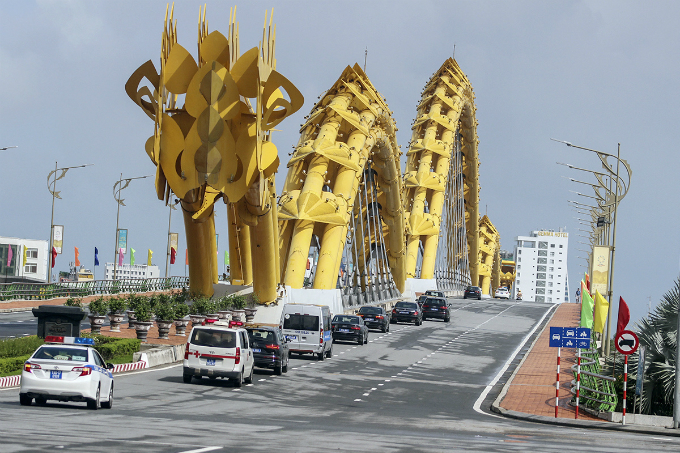 Cars carry APEC guests on the iconic Dragon Bridge of Da Nang.