Promoting cooperation in palm oil and paper industries between Indonesia-Vietnam
30/07/2017
On July 26th, 2017, the seminar on "Indonesia-Vietnam: Promoting cooperation in Palm oil and Paper industries" was held by the Embassy of the Republic of Indonesia in Hanoi with the attendance of H.E.Mr.Ibnu Hadi-Ambassador of the Republic of Indonesia, Mr.Suryana Sastradiredja-Minister Counselor/Head of Economic Section of Indonesian Embassy and representatives of enterprises.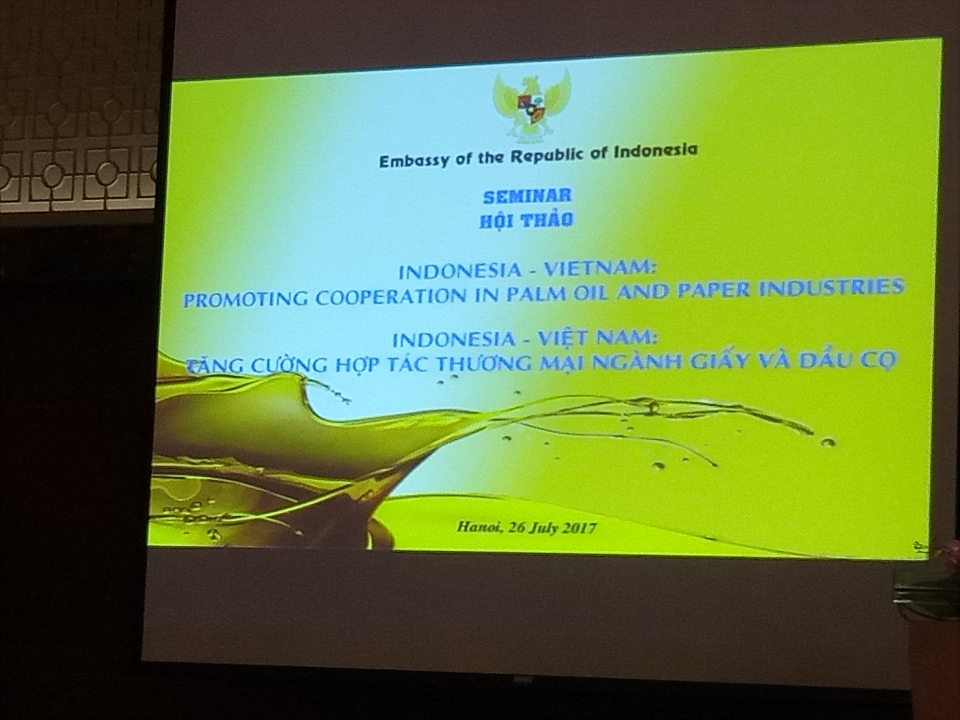 The seminar to facilitate enterprises to have a chance to make contact directly to each other in order to secure their own sources of palm oil and paper supply.
At the seminar, the Indonesian Ambassador to Vietnam Ibnu Hadi said that the bilateral relations between Indonesia and Vietnam have increased recently. The total volume of bilateral trade gained US$ 5.5 billion in 2016 respectively.
The two countries' leaders have committed to reach the bilateral trade volume of US$ 10 billion by 2018. For the year 2016, Paper was the 3rd largest commodity in term of value exported from Indonesia to Vietnam with a total value recorded of US$ 181 million. Followed at 4th place was the animal, vegetable fats, and oil products, including palm oil import from Indonesia to Vietnam with a total value of $US 161 million. And on the world wide scale, for the same year 2016, Indonesia was the 2nd largest exporter to Vietnam for Animal and Vegetable oil and 3rd largest exporter for the paper.
In 2016 Indonesia was ranked No.1 in the world for exporting Palm oil with 36 million metric tons on the total of 56 million metric tons of all countries in the world, equivalent to 62% of the world production.
It is acknowledged that Indonesia was ranked top 14 worldwide for exporting paper (US$ 3.2 billion). The main paper product exporting from Indonesia is A4 paper.
In the first 5 months of 2017, paper export turnover from Indonesia to Vietnam was US$ 81 million, with the volume of 115,000 tons. At the same time, Animal and Vegetable oil export turnover to Vietnam was US$ 58 million.