Panulirus homarus is a species of spiny lobster that lives along the coasts of the Indian and Pacific Oceans. It lives in shallow water, and feeds on the brown mussel Perna perna. It typically grows to a length of 20–25 cm (7.9–9.8 in). Alongside the dark green nominate subspecies, two red subspecies are recognised, one around the Arabian Peninsula, and one around southern Africa. It is the subject of small-scale fishery.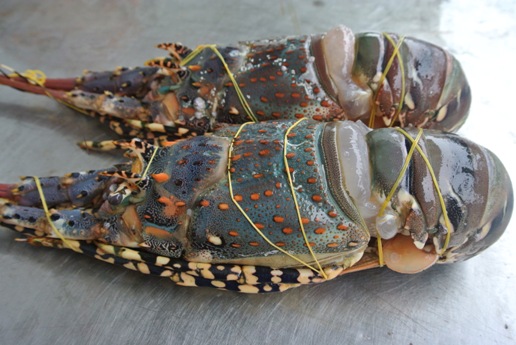 Panulirus homarus được tìm thấy ở khu vực Đông Dương Thái Bình Dương , từ Đông Phi dọc theo bờ biển Ấn Độ Dương , đến Quần đảo Mã Lai , và sau đó dọc theo bờ biển Thái Bình Dương đến Nhật Bản ở phía bắc và Australia , New Caledonia và có lẽ là quần đảo Marquesas ở phía nam.
P. homarus sống trong nước cạn, thường từ 1-5 mét (3 ft 3 in-16 ft 5 in) sâu, bao gồm cả đá trong vùng sóng , nhưng đôi khi lên đến 90 m (300 ft) và trong nước đục .