Nearly 100 Chinese Companies Coming to Bac Giang to Import Their Lychees
07/06/2017
On 17/5, Bac GIang's People's Committee organized a conference for lychee supply in 2017.
The conference is attended by hundreds of representatives and leaders of various Departments and locations, along with 300 domestic lychee companies and 70 Chinese businesses.
This is the opportunity for Bac Giang to market the strength and prospects of their lychees as well as the perfect moment for companies everywhere to get more information regarding the agricultural product export policies, allowing businesses to seek out new partners and lychee export to China to prosper.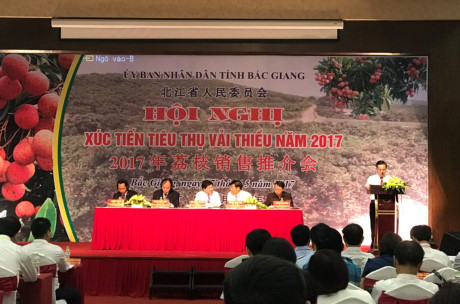 According to reports from Bac Giang's People's Committee, in 2017, lychees bloomed late and their fructification rate decreased 40% compared to the previous year.
With a planting area of nearly 30.00 ha, lychees are expected to reach 100.000 tons, making up for only 70% of 2016 (decreased by 42.000 tons). Expected quantity for Thanh Ha lychees for domestic consumption is about 50.000, while export quantity will be 50.000 tons, making up for 50% of total amount.
The Chinese market is determined to be a traditional one with a large quantity of Thanh Ha lychees being consumed there.
Mr. Tran Quang Tan, Director of Bac Giang Industrial and Commercial Facilities, shares that: in 2017, due to unfavorable weather conditions, lychee quantity decreased, However, their quality and appearance actually impoved from last year. The beginning of the season saw many company looking to negotiate purchase contracts and the price, as of 26/5, fluctuates in the range of 35.000 – 45.000 VND/kg, marking an increase of 10.000 VND from 2016.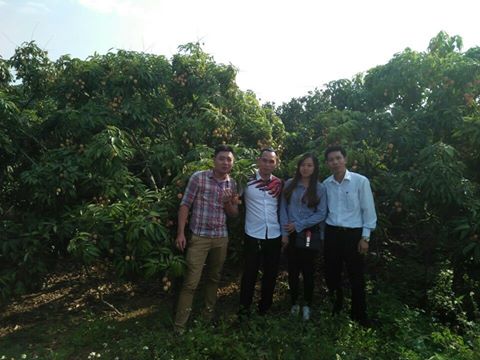 Khanh VUA Import-Export Co., Ltd.'s representatives along with managements of Bac Giang Industrial and Commercial Facilities
Also according to him, Thanh Ha lychees depend a lot on the season with a small window for harvesting (1,5 months). To this day, extending this period still faces many challenges and no solutions has been made for extending the period in with the fruits stay fresh after the harvest.
Companies from the USA, Australia, EU, etc. are transporting this product via air with high costs and low competiveness. Most Chinese companies deal in local lychees without formal contracts with local suppliers because of low stability.
"During the conference, with the appearance of organizations from Thi Bang Tuong, Ha Khau province, it is hopeful that these problems will be resolved in 2017", he said.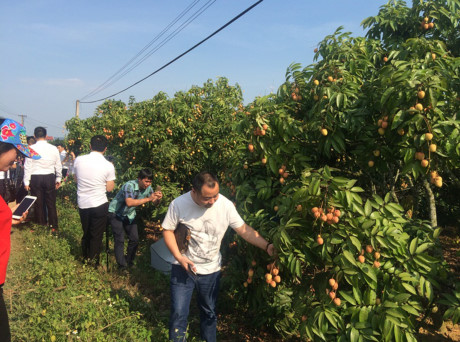 Businesses visiting a lychee orchard in Bac Giang
He also encourage authorities from Thi Bang Tuong (Quang Tay, China), and Ha Khau (Van Nam, Chian) continue to trade and provide storages, transportation, etc., extend time for customs, shorten holidays, and provide emergency inspections, etc. These actions will surely make it easier to export Thanh Ha lychee from Vietnam to China.
Mr. Lang Tinh Cao, Deputy Mayor of Thi Bang Tuong, said that their delegation included more than 30 Chinese import-export companies.
He also guaranteed to extend customs time, coordinate actions from China such as customs and quarantine, work during holidays, provide conveniences such as planning, 24/24 quarantine check, etc., making it easier than ever to export lychees from Vietnam during peak periods.
Mr. Phuong Dong, Deputy Director of the People's Committee of Ha Khau expressed the desire for cooperation, extend cooperation scope, and encourage new level for trade between Vietnam and China.
During the conference, Mr. Duong Van Thai, Deputy Director of Bac GIang's People's Committee guaranteed that: "We will provide as many opportunities as possible, as well as security and safety for companies that are coming here to do business with our lychees".