MEET MAX RIVEST AND ARNAUD PETITVALLET, WIZE MONKEY
17/09/2017
Canadians have a bit of a love affair with coffee. Whether it's the cooler weather or the sheer availability of it, Canada is officially ranked number one when calculating the number of litres of coffee per capita we gulp down.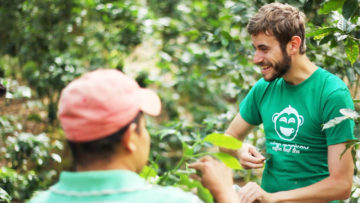 But despite our love of coffee, the average consumer probably knows relatively little about how it is produced. The seasonal industry is a volatile market for those farming the beans. With a three-month harvest season, the market was not sustainable for the farmers, who had to migrate to find work during the off-season.
Identifying the Opportunity
It was the opportunity Max and Arnaud had been looking for. After reading a study about the proven health benefits of Coffee Leaf Tea, they decided to investigate the possibility of creating a sustainable business model for these farmers.
Consumed for hundreds of years in Ethiopia and Indonesia, coffee leaf tea was yet to be discovered by the Western world. The pair did their research to find a country with a consistent supply chain and that had top quality products. They chose Nicaragua.
Hard Work Pays Off
But choosing the location was the easy part. Their challenge was to convince at least one farm owner to believe in their idea. After three months of hard work they returned to Vancouver with their product. Coffee Leaf Tea.
With the help of the Innovation Hub, Max and Arnaud professionalized their business. They launched Wize Monkey online in November 2014 and then with the help of financial backing from Futurpreneur and BDC rolled out their product to stores in December 2015.
Growing Skills and Knowledge
The initial development phase was a big reality check for Max. "Everything takes twice as long and cost twice as much as you expect," he comments. "We were living with my parents trying to learn as much as we could, both about the industry and how to run a business." But the entrepreneurial get-up-and-go was ingrained in Max at an early age. With the majority of his family comprising of entrepreneurs. He and Arnaud believed that they were capable of much more than a job description could ask of them. "We love learning new things every week," he says. "Now we're jacks of all trades. It's only by wearing so many hats that you can gain a wider perspective of how a business runs, and what it needs to make it run smoothly".
Creating a Social Impact
Since their launch, just three years ago, the now sell their product in over 35 countries and have created 110 year-round jobs on the coffee farm, that wouldn't have existed without their product. Their plan now is to boost the GDP of coffee-producing countries and stabilize the coffee industry. A lofty goal. "Our greatest strength is our tenacity and perseverance," observes Max. "That and our ability to live in constant stress and now worry about it too much!"
Industry Winning Business
Beyond their socio economic impact, the pair have received multiple product awards from both industry and consumers, including the World Tea Expo, Specialty Food Expo and of course the Best International Trade Award at the Small Business Awards in February 2017.
The Importance of Mentorship
The pair credit a lot of their success to their mentor James Tansey, from the NatureBank. "He's an absolute legend" laughs Max. Mentors are a necessity, not just a nice to have, he explains. Once you start building a good team of mentors and advisors, everything starts to get easier and you can a clarity that you otherwise wouldn't have.