MEET FRANCES RILEY AND RICHARD HALEY, THE ARGOSY
17/09/2017
Frances Riley and Richard Haley didn't begin with grand plans to enter the world of small business. Instead, an unexpected opportunity has launched this husband and wife team on an entrepreneurial adventure with no sign of slowing down.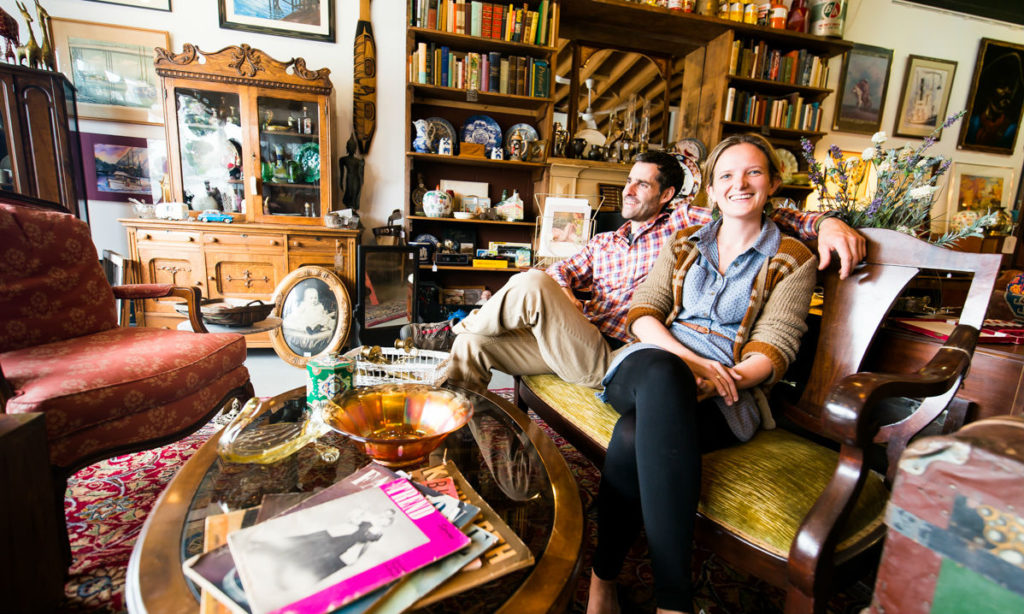 Opportunity Knocks
The decision to open a small business can involve lengthy planning, but The Argosy was born from a moment of opportunity, one that has led Frances and Richard down a path neither had previously considered. "It was accidental," revealed Frances. "We had a commercial building with a window display area that we stuck funky art and vintage furniture into. People knocked on the door wanting to buy them. The business opportunity was staring us in the face."
Learning to be Your Own Boss
Having both experienced the grind of a 9-5 existence, The Argosy represented an opportunity to forge a new path. Becoming their own boss was one of the main attractions, but it also brought with it a learning curve. "We became entrepreneurs in order to have the freedom of movement that comes with being your own boss," Frances explained. "Our biggest lesson so far has been that flexibility is an asset. You can't be too rigid with plans.
Leaning on Experience
As the old saying goes, 'success has many fathers', with Frances and Richard leaning on the expertise of those around them to make The Argosy a winner. "We've had huge support from family members in business, and the Prince Rupert Chamber of Commerce has also been a valuable resource," said Frances.
"Richard's brother, Joseph Haley, and Randy Bishop, are two visionaries of business that have shown us anything is possible. Local business owners and entrepreneurs Lucy Pribas and David Smook have also been an inspiration."
Sustainability is Key
On the West Coast, sustainability is never far from people's thoughts. A recent report suggested Canadians are piling up more garbage than ever before, making a business like The Argosy a valuable asset in the fight against waste. Since embarking on their entrepreneurial career, sustainability has been at the very heart of Richard and Frances' business.
"We want to continue promoting our products as viable alternatives to buying 'new' stuff, while also providing high quality service and products," Frances revealed. "We provide an outlet for many pieces that might otherwise find their way into a landfill, but giving them a new life and even a new purpose."
This dedication to sustainability isn't just manifested in The Argosy's roster of antiques and vintage pieces. There are landscaped gardens and plans for a rooftop greenhouse, veggie garden and BBQ area.
Giving Back to the Community
In its short few years of existence, The Argosy has already become a landmark in Prince Rupert. The core tenet of the business remains vintage and antique pieces, but renovations continue apace, adding new and exciting features. A screen-printing studio space with wood pellet burning stove has been added. In the future, Richard plans to make this space available to house artists in residence.
The space has also become a showcase for fine art, with several West Coast artists featured prominently. Look for pieces by Kostan Lagace, Sarah Chi Brown, and Suzo Hickey, among others. This focus on the local community is something that will continue at The Argosy, with Frances enthusiastic about the results. "I really see how dollars move around the community, flowing between business that are owned by my friends and neighbours, benefiting local events and charities," she said.
Vintage Stock Modern Methods
Though the inventory at The Argosy trends toward the vintage, Frances and Richard's approach to marketing has made full use of the modern, digital tools at their disposal. Facebook and Instagram feature heavily, with customers encouraged to share photos of their homes, sporting products from the shop. Time is also taken to curate their presence on rating sites like TripAdvisor, Yelp, and Google My Business.
"We always want it to feel as if our advertising is as natural and people-friendly as possible," Frances revealed. "To that end, we also encourage people to share photos of themselves or their homes with our products, making sure we comment on every single one. It's important people don't feel like it is a one-way flow of communication."
Don't Listen to the Naysayers
Before Frances departs, she shares one more nugget of wisdom for those looking to get a small business off the ground.
"Don't be discouraged by naysayers! You don't know what is going to happen until you try."