Meet Courtney Rice and Kaja Sadowski, Valkyrie Western Martial Arts Assembly
17/09/2017
Boxing, wrestling, swordplay and history probably aren't the first things that come to mind when you think about martial arts, but that's part of what makes Valkyrie Western Martial Arts Assembly stand out – and standing out is exactly what Co-Founders, Courtney Rice and Kaja Sadowski, do.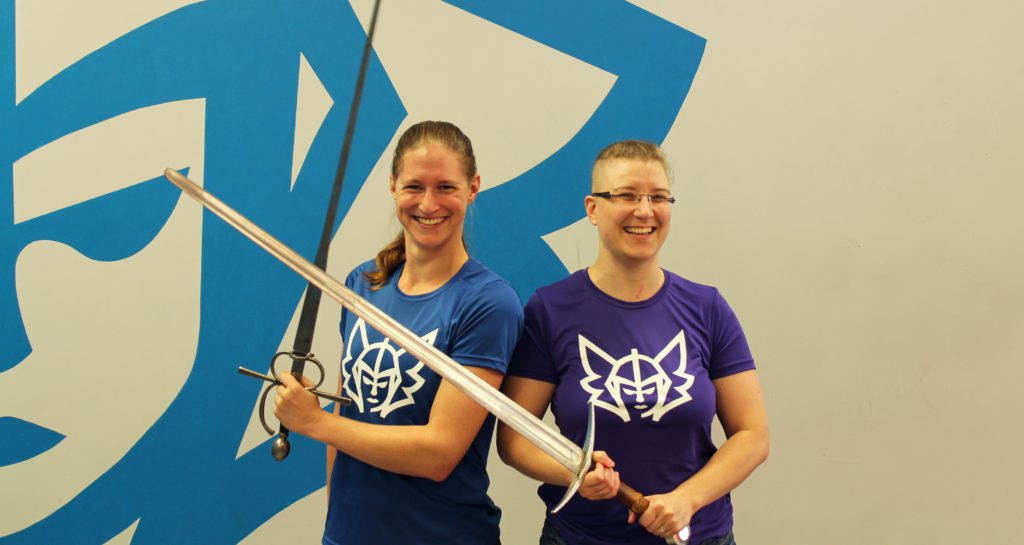 These female entrepreneurs combined these unusual elements with modern sports coaching and athletic training to start the first Western Martial Arts School in Canada to be owned and operated by women. Their end goal is to give students the tools they need to become stronger, fitter and happier versions of themselves, no matter where they begin or what their background is.
Valkyrie's welcoming nature has established the business as a safe place for women, members of the LGBT community and other frequently marginalized groups to practice martial arts. It's that devotion to their student base that has created a following that's supported them from the very beginning.
The entrepreneurs praise the community, saying, "[Our students] were with us every step of the way, building the sprung floor, moving drywall around, painting and spackling, and always cheerful and ready to jump in and help, even when we were in the deepest depths of despair." One student even attributes Valkyrie's self-defense classes to assisting in save his life, a testimonial that few martial arts schools can match.
When asked how they've achieved so much in the last two years, Courtney and Kaja offer a great deal of insight, but two pieces of advice are key. Firstly, "If you don't believe in the value of what you're doing, you won't do it well." Secondly, they add, half-serious and half-joking, "Try everything. Make lots of money."
Read more to get first-hand guidance from these successful female entrepreneurs here.
Do Female Entrepreneurship Your Own Way
Courtney and Kaja are modest about being women in business, emphasizing their positions as martial arts and teachers, but they don't deny that their gender may influence people's thinking.
"People have made incorrect assumptions about our capabilities or our role in our own company," they admit, but remain optimistic about how they've been able to succeed regardless.
However, they're happy to share what they've learned with other female entrepreneurs. The Co-Founders state, "You're in charge now. Run your business however makes sense to you, and don't let others define you or your success by something you have no control over."
Essential Insight into Entrepreneurship
The Valkyrie Co-Founders have overcome many obstacles, giving them insight into three of the most important parts of starting and running a business.
Regarding financing, "Take out a personal line of credit before you quit your day job. Make sure you have enough operating capital available for at least six months after opening."
When it comes to the big picture, "Stick to what you know you do best. Don't try to do what you think other people think you should be doing, or what standard behaviour is for a business in your field."
And finally, prepare for the unexpected with, "Assume things will not go as planned."
Use Resources to Fine-Tune and Finance
Before launching Valkyrie, Courtney and Kaja made an appointment with a Small Business BC Business Advisor for a one-on-one consultation tailored for their business. During their meeting, the entrepreneurs and advisor worked together to polish the business plan, which the Co-Founders successfully used to receive funding.
Courtney and Kaja used the business plan to validate Valkyrie's readiness in the market, which assisted them in receiving entrepreneurship-specific loans from Futurpreneur and Vancity's "Be My Own Boss" program.
Additionally, Valkyrie was featured as a Small Business BC Awards finalist, which led to valuable media coverage, client leads and great opportunities to network with other leading businesses. The Co-Founders also point out the awards' potential to improve local communities and connect business owners that share similar beliefs, such as Small Business BC Awards "Best Emerging Entrepreneur" winner, Big Bro's Barbershop.
Create a Loyal Customer Following
Valkyrie only incorporated in 2014, but it has already created a supportive, inclusive community. The business' loyal followers have aided them at every stage, from growing from a park practice to meeting the challenges of creating a permanent location.
Courtney and Kaja credit their community with, "During the final push, every week brought a new disaster and we'd cry about it, rally our troops, and then find a way through."
And testimonials make it clear that Valkyrie's followers value Courtney and Kaja just as much. One student even used his self-defense training to disarm a knife-wielding attacker. He ended the confrontation without anyone being injured, and controlled the situation until the police arrived.
The entrepreneurs are rightly passionate about their work, stating, "Before, we believed that what we were doing was important — now we're sure of it."
Small Business BC Meetups
Courtney and Kaja spoke at Small Business BC Meetups Presents Starting a Sports and Leisure Business event on July 2016. On the second Tuesday of almost every month, these casual meetups address common opportunities and challenges that entrepreneurs and small business owners face today, and leverage networking sessions with valuable connections. Sign up for our next Meetup today, as space for next month's event is limited.