Lychee
24/03/2018
June is the main season of Thieu fabric, right now you can contact directly with KHANH VUA Import Export Co., Ltd to become importers and exporters of litchi: Thieu Thanh Ha Fabric, North Thieu Fabric Giang.
We would like to introduce briefly about lychee
Identification of Thanh Ha litchi
The common identity of Thanh Ha litchi is that it is the smallest size of all varieties of fabric, slightly rounded. Height of fruit 3.3 - 3.4 cm, width of fruit 3.4 - 3.5 cm, high fruit / fruit ratio 0.94 - 0.98. Small, lumpy, ripe red, seeds are very dark black or seedless, thick white pulp eaten very sweet, aromatic special flavor. Weight 18-20g, the rate of sting 72-80% meat slightly pasty, when peeled fragile water, fragrant. Litchi seeds are almost destroyed, rejuvenate, not granulation like normal cloth. Cloth for the mouth will feel like self-melting, do not feel the taste, sour, chat, gradually sweet, gradually ...
Lychee
Thanh Ha litchi seeds are small, dark brown, cloth higher age, the seed is smaller, there are many fruits almost no seeds and sweet thick crust, full of water. Between the pulp and the lychee grain, there is no thin brownish-brown film like the Luc Ngan. Thanh Ha quality is good, so the price is higher than other fabrics.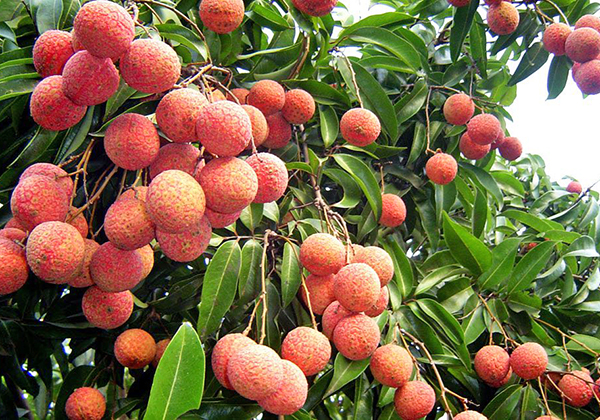 At 10 years of age, the fabric is flowering and the yield is more stable. Growing on the hills in the Midlands, if fertilizing well, especially fertilizers and fertilizers, can give high productivity. The flowers are available in the third calendar month and nine in June. The ripe time is from mid-June to mid-July.
Harvest time is usually short, about 2 weeks. Therefore, with high yield, it is usually processed by drying, which is then called dry cloth.
Characteristics of Bac Giang litchi
Although the origin of lychee is not Luc Ngan. The lychee comes to this rocky land by accident. Originating from the Red River delta, lychees arrived in Bac Giang as gracefully as the sky, the harmony of land, soil and climate with this unique fruit has created a sweet fruit. The aroma is even sweeter, more sweet in the place where it was born. As a result of this affair, Bac Giang province has developed into a fruit tree growing area of ​​about 40,000 hectares with annual output of 250,000 tons (Luc Ngan alone is over 150,000 tons). Luc Ngan litchi has been protected geographical indications and protection of trademarks.
In order to maintain the brand name and expand the market, in recent years, local authorities have been actively coordinating with many scientific research units to implement intensive farming, litchi production under VietGAP To produce clean lychee products and meet the requirements of food hygiene and safety.
Thyme is used as daily food such as: Fresh Fabrics, Dry Fabrics, Canned Fabrics; In addition, lychee also makes many good medicine for human health: cure diarrhea, stomatitis, boils, toothache, beauty skin ... At present, lychee Luc Ngan is not only favored in water but also Export to foreign markets: EU, China, Japan, Eastern Europe.
In addition to the consumption of fresh lychees in the domestic market, Luc Ngan is also processed into many different products such as canned lychees, sugar lychees, frozen lychees, dried lychees dried canned, lychees, lychee wines ... These products have won many awards in international exhibitions and fairs and are popular with consumers.
We would like to cooperate with you
KHANH VUA IMPORT EXPORT CO., LTD
Address: Group 22, Vinh Niem Ward, Le Chan District, Hai Phong
Transaction Office: Floor 6, 739 Nguyen Van Linh Street, Le Chan District, Hai Phong City Vietnam
Phone / Hotline: +84.931 590 223 | +84.931 590 224 - TEL / FAX: +84.2253742186
Email: xnkkhanhvua@gmail.com | khanhvuatrade@gmail.com
Website: www.xnkkhanhvua.com