Leather business needs to soar from internal power
09/08/2017
VCN- Export of leather and footwear industry has been positive, but the problem is that more than 80% of export turnover belongs to FDI enterprises. What should we do to change the balance of export turnover towards sustainable growth is a matter for the leather industry in the future.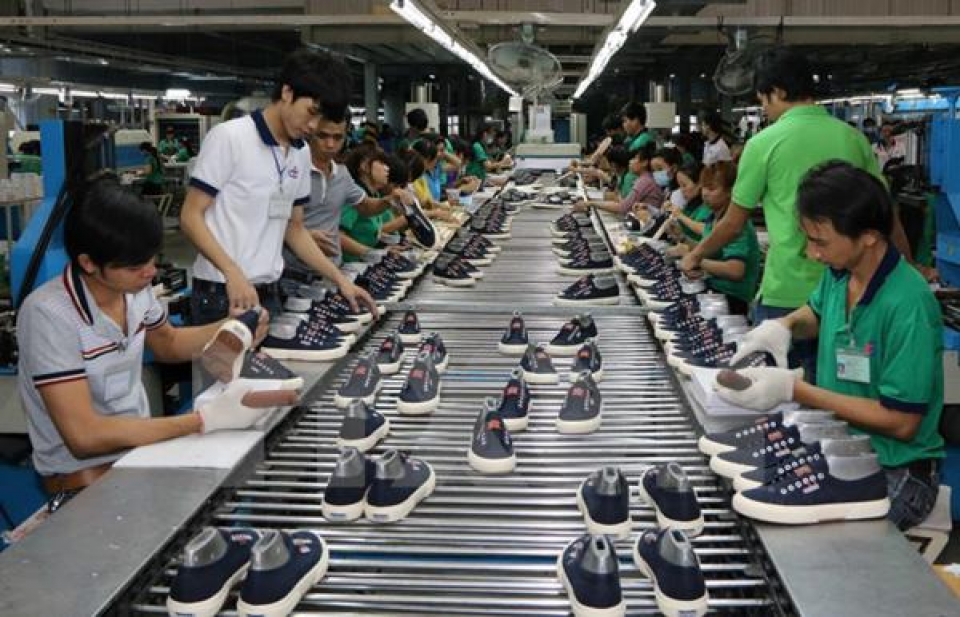 Balance deviation
According to statistics from the General Department of Vietnam Customs, from the beginning of 2017 to the end of 15th July 2017, export turnover of footwear of all types and materials of textile, garment and footwear reached more than US$ 8.5 billion, an increase of more than 10% compared to the same period last year. It can be considered as a positive figure after a fairly quiet year for the footwear industry. As a result, Vietnam is in the top four largest footwear producers in the world (after China, India, and Brazil), but the third largest exporter in the world in terms of value (after China and Italia).
However, the Lefaso Association of Leather - Footwear - Handbag of Vietnam brings the thoughtful number, 81% of the value of export turnover of leather business belonged to FDI enterprises, but domestic enterprises accounted for only 19%. Export turnover mainly belonged to corporations from Taiwan, Korea such as: Yuan Chi Group, Pou Chen Group, Feng Tay with annual export turnover of billions of USD. Moreover, the contribution of FDI enterprises has increased rapidly each year. In 2013, these companies accounted for 75% of the total export turnover; by 2015, they increased to 78% and by 2016, they increased to 80.8%. Whereas in contrast, exports of domestic enterprises tended to decrease. In 2013, these exports accounted for 25% of total turnover, in 2015, they decreased to 21.4%, and in 2016, they decreased to 19.2%.
According to Lefaso, the export volume of FDI enterprises is constantly increasing because these enterprises continue to expand their existing plant capacity and build new plants in Vietnam in order to catch up free trade agreements. Meanwhile, domestic enterprises had much difficulty in capital and market access, which were the reasons for them in expansion of production, and competitiveness.
In addition, according to some enterprises, the reason also came from customers who tended to move to FDI enterprises. According to Mrs. Nguyen Thi Lan, the Director of Phu Yen Footwear and Manufacturing Import-Export Co., Ltd, from the beginning of 2017 to date, the company has actively expanded its production and search for customers. However, the number of customers and partners to can not increase immediately because they have not signed contracts or agreements. Therefore, Mrs. Lan expected that by the end of 2017 and early 2018, when customers order goods and sign contracts with enterprises, the export volume will increase.
There should be a change
According to some assessments, China continues to undertake to reduce investment incentives in the areas of textiles and footwear to focus on higher technology industries, this will be an opportunity for Vietnamese enterprises to take advantage and receive many new orders. However, with the advantage of FDI enterprises as mentioned above, domestic enterprises must change.
In fact, many domestic leather and footwear companies have actively expanded their production and business capacity by investing hundreds of billions of VND in modern machinery and technology. In addition, many companies have "boldly" opened factories in remote provinces to take advantage of cheap labour and land such as Vien Thinh Footwear Company and Truong Loi Shoes Factory to invest in Ninh Binh and Quang Nam or open factories in large industrial zones to strengthen the connection and join the chain with FDI enterprises. Therefore, the footwear industry in Vietnam has attracted many big brands in the world.
Therefore, in order to increase the capacity of domestic leather footwear companies, Mrs. Phan Thi Thanh Xuan, the Secretary General of Lefaso said that enterprises needed to strengthen the information linkage system by participating in associations and activities, propaganda of ministries, departments to access information related to import and export business. In particular, enterprises must be self-motivated to prepare human resources to connect information, respond quickly to orders, enterprises can not be passive waiting for customers to find them. Moreover, according to Mrs. Phan Thi Thanh Xuan, an increase in FDI enterprises' investment was also an opportunity for domestic enterprises to learn experience, motivate and link FDI enterprises to collect orders.
In addition to self-reliance, businesses want the Government to support the creation of legal corridors, mechanisms and policies to create favourable conditions for enterprises on preferential policies on capital, taxes, labour for businesses to reduce the pressure on costs, administrative procedures. Enterprises expected that the balance of value of leather footwear exports of Vietnam would change, helping to increase sustainable value for the leather and footwear enterprises in particular and the private domestic enterprises in general.