IMPORTED KOREAN PEAR
19/08/2017
Though Korean Pears have been just imported to Vietnamese market recently, they are getting popular with many consumers because of their outstanding characteristics such as big fruit, thick flesh, crispy and tasty.
Korean Pears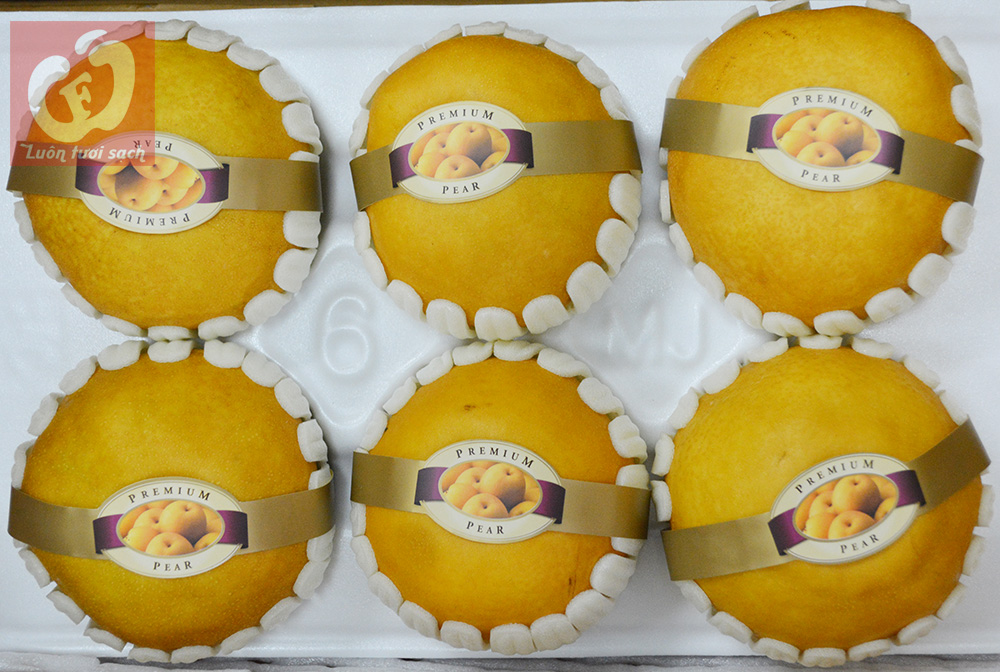 IMPORTED KOREAN PEAR
1. Introduction
Korean Pears that are always fresh, are imported directly from the gardens in Korea and start being selled in Vietnam since September every year. Korean Pears are favored all over the world due to their quality.
2. Features
Korean Pears have large shapes, thick skin, eye-catching yellow color. Each pear has an average weight of 300g to 400g. When eating them, you can fell the sweet, fragrant, succulent and crispy taste clearly.
3. Nutrition and heath values
100g pear contain up to:
-86.5g of water
-0.1 g of fat
-0,2g of protein
-11g of carbohydrate
-1.6g of cellulose
-14mg of calcium
-13mg of phosphorus
-0.5mg of ferrum
-0.2mg of vitamin PP
-1mg of folic acid
With a variety of healthy substances and vitamins, Korean Pears help prevent diabetes, cholesterol, quickly cut hunger and keep the heart always healthy.
Our company curently is an importer and distributor of Korean Pear in Vietnam. We import pears directly from Korea and supply to domestic markets.
* WHY SHOULD YOU BUY OUR FRESH FRUITS?
- Fruits are always guaranteed origin (always get a certificate of origin)
- Fruits are always hygienic and safe (Certificate of Food Hygiene and Safety)
- The best prices in the North of Vietnam (because we are a big importer and directly import from the suppliers)
- Free shipping to customers when they order large quantities in the inner city
- Replacing defective / damaged goods
- Preferential policies for loyal customers (gift / big discount for guests on birthday / .......)
If you are interested in working as our agents for imported Korean Pear, please contact us:
KHANH VUA IMPORT-EXPORT CO., LTD.
Address: Black 22, Vinh Niem Ward, Le Chan Dist, Haiphong
Office: 6th Floor, 739 Nguyen Van Linh Str., Le Chan Dist, Haiphong City, Vietnam
Telephone/Hotline: +84.931 590 223 | +84.931 590 224 – TEL/FAX: +84.2253742186
Email: xnkkhanhvua@gmail.com
Website: http://www.xnkkhanhvua.com | www.hptrade.com.vn