Import - export in Hung Yen
14/05/2017
The information portal at http://xnkkhanhvua.com| http://hptrade.com.vn owned and operated by KhanhVUa Import-Export Co., Ltd, is the only website specialized in trade, product, and business image promotion operating in Haiphong. Our website provide comprehensive information regarding domestic and international trade that is curated and verified by our management board.
Our website is the place for all import and export companies in Hung Yen, Viet Nam, as well as 62 provinces all over the countries and in countries around the globe, to participate. Our areas of trade include: Apparel – Footware, Woodwork – Furniture, Seafood, Agricultural Products, Fossil Fuels – Green Energy, Traditional Crafts, Building Materials, Cast Iron & Steel, Minerals, Machinery lines, and various other services.
* 5 step to participate in our information portal:
Visit our website and register as a member
Provide full business information according to the provided form and send your request to our website management board
The business department receives our request and proceeds to verify your company
Sign contract to become one of our members
Provide payment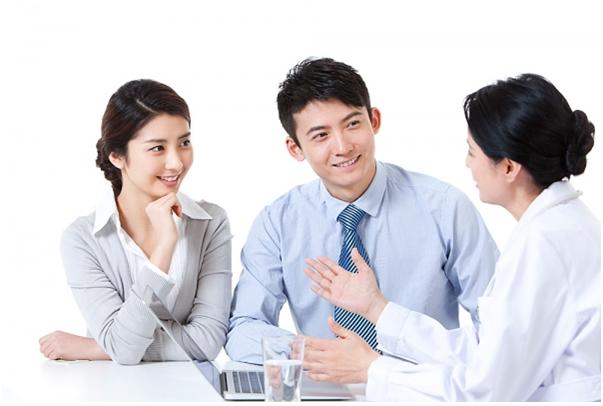 Import-Export consultants from Haiphong (image for reference purpose only)
* Benefits for becoming a member:
Currently, we offer 4 membership packages: VIP, Diamond, Gold, and Regular.
Allowed to have your logo shown on our website: www.nkkhanhvua.com (both Vietnamese and English versions)
Allowed to see product details on our website: www.nkkhanhvua.com (both Vietnamese and English versions)
Allowed to have one promotional video shown on our website: www.nkkhanhvua.com (both Vietnamese and English versions)
Receive every news article on domestic and international importexport deal that Khanh VUA receives
Provided with opportunities to advertise products and promote tradedomestically and internationally
Provided with opportunities to cooperate with domestic and international businesses
Given priority on selecting booths during conventions and fairs organized by Khanh VUA
Have products marketed widely by Khanh VUA
Receive legal consultancies from KhanhVua upon occurrence of trade disputes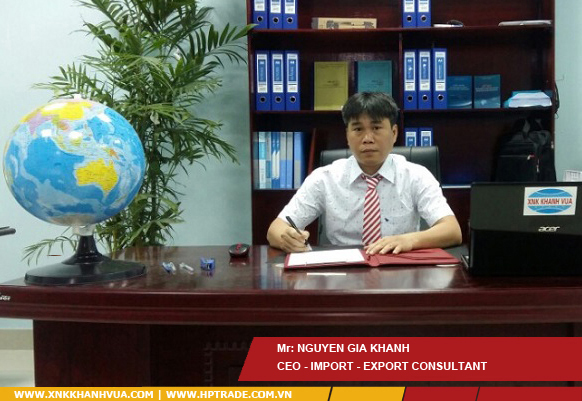 Mr. Nguyen GiaKhanh (CEO and expert consultant on import-export of Khanh VUA Import-Export Co., Ltd.)
*Khanh VUA Import-Export Co., Ltd.'s commitment to members of http://xnkkhanhvua.com| http://hptrade.com.vn
Aside from the above benefits, once a business becomes one of our members, they will receive absolute assurance when signing contracts since we provide logistics and bank guarantee.
In case you are not adept in import and export or have never directly participated in the trade, you can partner up with us. Upon successfully making a deal, Khanh VUA will charge a % commission fee (from 1% to 3% depending on each type of products) once you have received payment to your bank account.
For those who seek consultancy on import-export regarding: making export contacts, creating quotations for foreign customers, welcoming customers to Vietnam, road-sea-air logistics, providing product prototypes, providing samples, and international transaction; please pay the commission fee at the time of receiving quotation and negotiation.
* Incentives for businesses, organizations and individuals who wish to join us:
From 25/03/2017, those who sign up for Gold or Regular membership package for at least 06 months (for the low price of lony 3.000.000 VND) will automatically be upgraded to the Diamond package and receive full benefits as a Diamond member.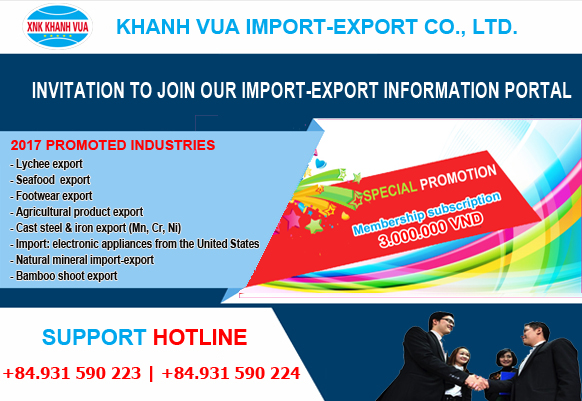 Promotion for businesses, organizations, and individuals wishing to join us
Because of the above advantages, Khanh VUA's management boards encourages businesses, organizations, and individuals to become our members via our website: http://xnkkhanhvua.com| http://hptrade.com.vn
Some useful information:
Sign up as a VIP member
Sign up as a Diamond member
Sign up as a Gold member
Sign up as a Regular member
Membership registration promotions
Invitation to join us as a member
For more information regarding our terms of service, please contact us via the following information:
KHANH VUA IMPORT-EXPORT CO., LTD.
Address: Black 22, VinhNiem Ward, Le Chan Dist, Haiphong
Office: 6th Floor, 739 Nguyen Van Linh Str., Le Chan Dist, Haiphong City, Vietnam
Telephone/Hotline: +84.931 590 223 | +84.931 590 224 – TEL/FAX: +84.2253742186
Email: xnkkhanhvua@gmail.com
Website: http://www.xnkkhanhvua.com | www.hptrade.com.vn