High-end toy market is booming
25/06/2017
The market for children's goods exceeded the $5 billion threshold last year, in which toys and clothes made up one-third of the market value, according to N Kids.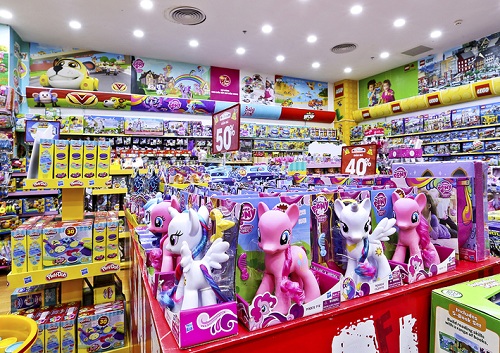 The appearance of high-end toy products, mostly displayed at supermarkets or toy chains, has remapped the domestic toy market.
Viet Tinh Anh with My Kingdom chain, Phuong Nga with ToyLand, Goldenkids with Funny Land and K&K, Con Cung (Pet) with ToyCity have become well-known names, though they appeared on the market only several years ago.
Luu Anh Tien, founder of Con Cung JSC, which runs concung.com and ToyCity, said the high-end toy market has entered a boom period because of the increase in demand, especially in large cities.
"It is possible that the scale of the toy chains such as My Kingdom, ToyCity and ToyLand in three to five years will be 3-4 times higher larger than now," Tien said.
Vietnamese consumers have become more demanding and want safe products with clear origin instead of low-cost products from China and Malaysia. With improved income, owning high-quality safe products is now within reach.
My Kingdom run by Viet Tinh Anh is expected to be one of the largest toy chains in the market. The enterprise with charter capital of VND26.5 billion is now developing a chain of 200 shops located in many provinces and cities, half of which are in Hanoi and HCMC.
My Kingdom focuses on distributing assembly toys made by LEGO, Siku and Moxie Girlz simulating super-heroes of DC Comics, Marvel and other famous portraits. The products are priced between hundreds of thousands and tens of millions of dong.
According to Virac, a market analysis firm, the revenue of My Kingdom in 2015 was VND480 billion, increasing by 50 percent over 2014 (VND323 billion). However, the profit increased more slightly, by 11 percent, from VND28.6 billion to VND31.8 billion.
The lower profit growth rate than revenue growth rate is attributed to the fact that investors are trying to expand their networks, increasing business costs.
Not only My Kingdom, but other toy chains are also sacrificing profits for network expansion.
With smaller scale, Funny Land chain belonging to Golden Kids now has 29 shops throughout the country, including 15 in HCMC and 7 in Hanoi.
Like My Kingdom, though its revenue in 2015 was high at VND60 billion, the profit was modest, just VND2 billion, which means a profit margin of less than 4 percent.
The same thing happened with Phuong Nga Toys. It revenue was VND115 billion in 2015, a two-fold increase over 2014, but the profit was VND600 million only. In the year before, the chain even took a loss of VND1 billion.