Good signal on localization rate in textile and garment industry
16/04/2018
There are many advanced machines and technologies in the garment industry such as automatic fabric discharge and fabric analysis (UK), CAD system, fabric spreader, conveyor belt, marking machine, automatic sewing machine (China), high-tech specialized equipment, high-quality industrial sewing machine from Germany or Japan, were introduced at the National Exhibition Textile and Garment Industry and Equipment & Accessories - Saigontex 2018 opened in Ho Chi Minh City on 11 April 2018.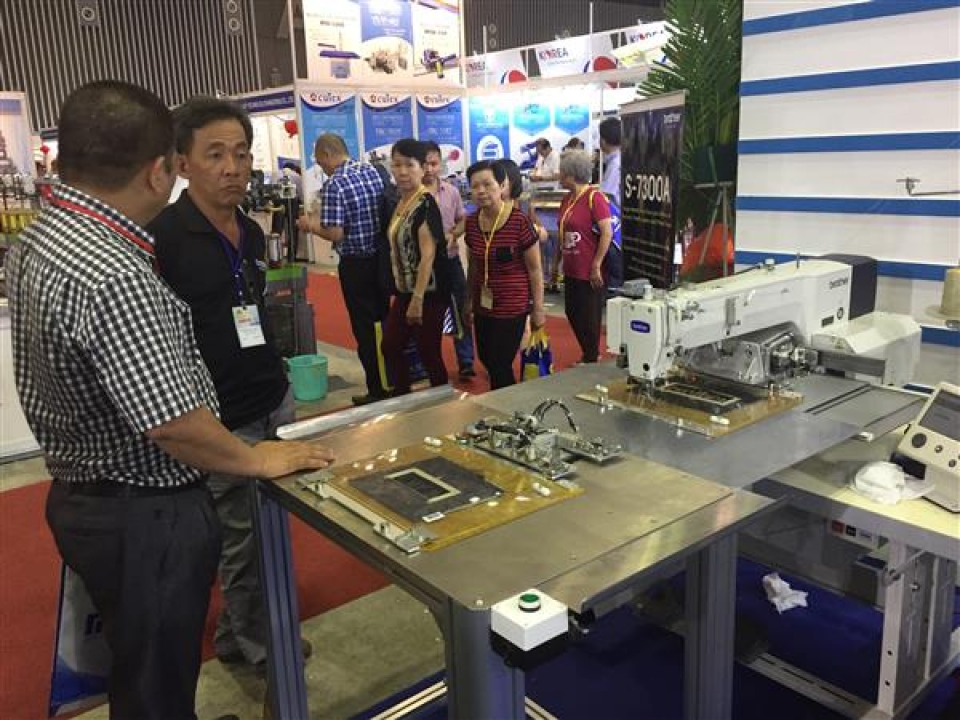 Along with that, many new materials were also introduced at the exhibition, such as bleached yarns, plant-based fibers, rayon, jute, acrylic, viscose, spandex wool, polyester, organic, lycra blend, CVC, glue, fabric glue, paper glue, heat transfer printing logo, and jacquard fabrics.
There were nearly 1,000 enterprises from 26 countries and with Vietnam participating in this fair.
Speaking at the opening ceremony of the exhibition, Mr. Truong Thanh Hoai, Director of the Industry Department - the Ministry of Industry and Trade, said that in 2017, Vietnam's garment industry faced the biggest challenge in more than a decade when the TPP - the agreement which was expected to bring many advantages to the sector, was not signed after long preparation and negotiation. However, contrary to the predictions of a possible decline, 2017 saw a breakthrough in the textile and garment industry as exports reached $US 31 billion, an increase of more than 10% compared to 2016.
"It is an extremely impressive growth figure for the garment sector in this new challenge without TPP, along with the fierce competition of textile exporters, which regard Vietnam as a rival for restraint", Mr. Hoai said.
Mr. Le Tien Truong, the Director General of Vietnam Textile and Garment Group, said that with the newly completed CPTPP, Vietnam's textile and garment industry will have the opportunity to expand its exports to the new markets of CPTPP countries, especially Australia and Canada, following the success of FTAs with Japan, Korea, etc.
Mr. Truong said that the highlight of Saigontex 2018 was an increase in the number of domestic enterprises supplying materials and auxiliary materials. This is a good sign for the development of the textile industry in the future with the localization rate increasing.
However, as the world is shifting and changing production methods due to the industrial revolution 4.0, Hoai said Vietnam's textile industry needed to invest in innovation to continue to grow stronger and improve competitiveness.
Accordingly, Saigontex 2018 gives Vietnamese garment enterprises the opportunity to learn information on the latest technology to make appropriate investment decisions, bringing more efficiency, helping to compete well with other countries. The fair also serves as a link for trade between domestic and international enterprises. In the immediate future, it is the commercial cooperation, followed by the joint venture, cooperation in production, technology transfer, chain participation, and global textile supply.
In addition, according to Mr. Hoai, the fair is also a place where managers and technical specialists of companies meet with technology experts with new production models and advanced businesses, thereby sharing and discussing on the latest solutions in the production process of textile and garment business.