For the development of social enterprises
05/09/2017
Law on Enterprise 2014 stipulates that social enterprises are enterprises registered to establish under the law; use at least 51% of the annual gross profit of the enterprises to reinvest in order to achieve social and environmental goals as registration. However, so far, the number of social enterprises is still very modest due to the lack of many policy mechanisms.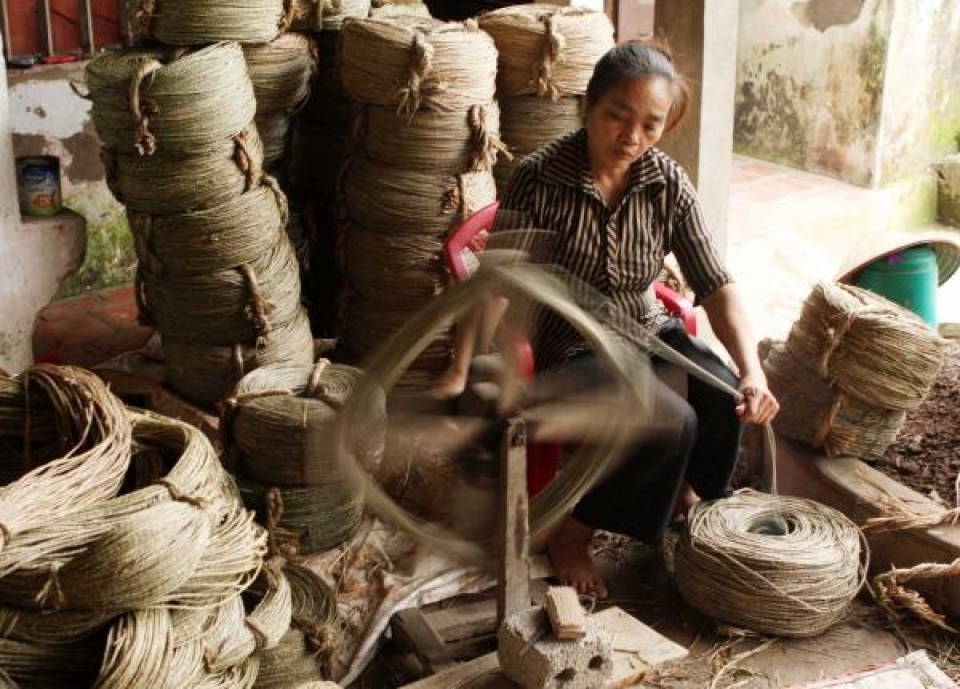 Small amount
According to the GEM, the number of enterprises operating under the model of social enterprises now accounts for 1.1% of the total number of enterprises. In which, enterprises are in the start-up period (under 3 years of operation) have the rate of 0.7% and the number of enterprises in the development period is 0.5%. Although the regulations on social enterprises have been amended by the Law on Enterprise in 2014, as well as many other legal documents, the actual number of social enterprises is still limited. Therefore, many businesses have desired for a more specific support policy.
The difference between social enterprises and commercial enterprises is their business and employment objectives, however, the difference is also relative because businessmen are eager to make profits. Therefore, representatives of a social enterprise said that, although the enterprise brings employment opportunities for people with disabilities, products will be sold in many stores and export, brings profits for business. Profitable companies will continue to reinvest, pay compensation to employees, contribute to the society. Therefore, he said that, in addition to the humanitarian purpose, social enterprises can also make profits like commercial enterprises as the products and services of social enterprises are well known and used by the people, and the social issues that the enterprises intend are solved well.
However, in addition to the good intentions that social enterprises bring, there are concerns about the status of enterprises who "mask" social enterprises to make a profit, call for funding, entitled the conditions of tax reduction... eventually, through social enterprises to transfer pricing for tax evasion... Therefore, according to Mr. Vo Van Dai, Chairman, and director of Dien Chau Fishery J.S.C. Moreover, managers do not understand the concept of social enterprises so they do not create favorable conditions for business registration and management of enterprises. Therefore, the activities of social enterprises still have not gotten outstanding results, many people are confused between social enterprises and commercial enterprises participating in social activities.
It is still difficult to identify incentives
To help social enterprises to develop properly, Ms. Pham Kieu Oanh, director of Center for Social Initiatives Promotions (CSIP), said that there should be more strategic solutions to support social enterprises to develop in line with the Vietnam's business environment because it has the legal area for social enterprises. Accordingly, social enterprises need to improve their management ability, because most enterprises are weak in the business field. Moreover, social enterprises are also normal businesses, thus, they also need markets to do business; Therefore, the management agencies need to make solutions to clear the market, create capital to nurture and make the business ideas of enterprises into reality.
Besides, Ms. Do Thi Quynh, Director of social enterprise for Ha Giang Highlands education development, said that it needs to have solutions to raise awareness of management agencies and communities about social enterprises. It is even necessary to improve the knowledge of social enterprises for the social enterprises themselves to avoid misunderstanding about the operation of social enterprises as well as timely detecting cases of profiteering under the form of the social enterprise.
On the other hand, the regulations on social enterprises should be more specific, avoid the general situation, typically the regulation on the use of 51% of profits to reinvest in order to achieve social and environmental goals as registration does not cite what the basis for determining this number is and how to invest... Especially, preferential policies for these enterprises are not perfect. According to Mr. Vo Van Dai, the enterprise produces through seafood harvested from farmers that it should not only need capital support policies but it also needs tax exemptions for businesses and workers. Although this requirement of the enterprise has long been unresolved, management agencies still find it difficult to determine how reasonable the incentive mechanism is.
It can be said that social enterprises with the purpose of their activities will contribute positively to the socio-economic development. But for these companies to promote properly, avoid the negative, the administrative agencies should take more tight control measures. As the number of social enterprises operating is so small and the legal regulations are not paid attention, social enterprises are still "self-reliant", find the best strategy to develop the right purpose set.