Dong Nai Customs improves the local investment environment
20/07/2017
With active operations in grasping, removing obstacles of enterprises, reforming procedures, and creating maximum advantages for enterprises in administrative procedures, the Dong Nai Customs Department has been significantly contributing to improving the local business investment environment, helping Dong Nai province achieve high results in attracting investment.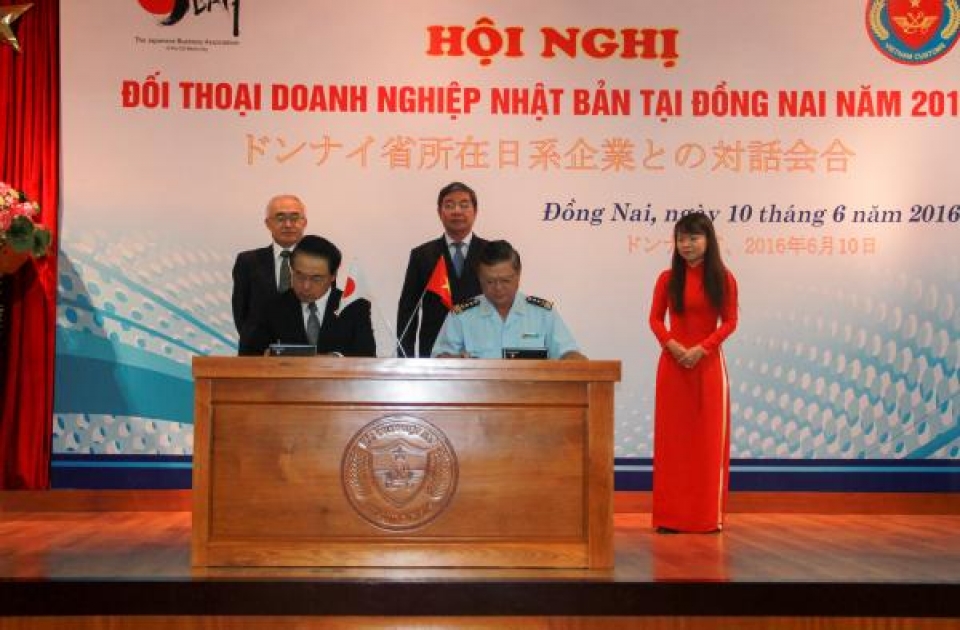 According to the Department of Planning and Investment of Dong Nai province, by mid-June 2017, the total foreign investment capital in Dong Nai reached more than $US 640 million, equal to 64% of the 2017 plan ($US 1 billion). Specifically, there were 37 new projects with a total capital of $US 228 million and 51 capital-adjusted projects with a total capital increase of nearly $US 413 million. Till now, there have been more than 1,700 foreign investment projects with a total investment capital of $US 30.94 million, of which 1,286 projects are in operation with a total capital of $US 26.104 million. Korea, Taiwan (China) and Japan are still the leading countries in investment in Dong Nai.
As for attracting domestic investment, till mid-June 2017, Dong Nai province attracted 26 domestic investment projects with the total capital of over 8,700 billion vnd, an increase of about 1,200 billion vnd over the same period last year. In particular, 21 projects were granted new investment certificates with a total capital of nearly 8,100 billion vnd, and 5 projects were adjusted to increase the capital of more than 600 billion vnd. Dong Nai has recently attracted 711 projects with registered domestic investment capital of 203,000 billion vnd. In 2017, the policy of Dong Nai People's Committee focused on attracting high-tech projects, supporting industries, environmentally-friendly projects, projects in the field of services, infrastructure and traffic. Projects which are likely to cause high environmental pollution or labour-intensive projects are rejected.
According to leaders of the Dong Nai Department of Planning and Investment, among 32 industrial zones, many industrial parks in Bien Hoa, Nhon Trach, Long Thanh, and Trang Bom have been filled while only large and remote industrial areas in Tan Phu, Xuan Loc, Dinh Quan have areas for rent. Therefore, the investment projects have been carefully selected, focusing on the quality.
The results are thanks to a great contribution of the employees and civil servants of the Dong Nai Customs Department in accompanying and supporting enterprises in import-export activities. Finding solutions to solve business procedures in a simple, quick and convenient way is always the concern of leaders as well as officers of the Dong Nai Customs Department. Accordingly, the Dong Nai Customs Department has formulated and signed regulations on coordination with specialized State management agencies such as Regional Animal Health Agency VI, the Branch of Regional Plant Quarantine II, and port enterprises related to import-export activities to coordinate activities, avoid overlapping, remove difficulty and create favorable conditions for enterprises in import-export activities. The Dong Nai Customs Department has also well coordinated with the State Treasury of Dong Nai Province and more than 23 commercial banks in the collection of Customs duties and taxes, meeting the requirements of modernization of Customs management and the need of enterprises using public services at the highest level (level 4) in Customs clearance for imports and exports.
In addition, the Dong Nai Customs Department has also deployed a series of information exchange with enterprises to timely solve problems as well as update new regulations related to export and import activities of enterprises. Typically, the website of the Dong Nai Customs Department has been translated into 5 languages: Vietnamese, English, Chinese, Japanese and Korean. In particular, the section "Customs clearance online" has attracted not only companies in Dong Nai but also enterprises in other provinces to ask questions. On average, there are tens of thousands of questions answered each year.
In addition, the Customs-Info software developed by the Dong Nai Customs Department is considered as a breakthrough in the exchange of information between Customs and enterprises. Accordingly, the forms of sending letters such as by post, emails, messages have been replaced with new software installed on each company's computer. Not only does the software of the Dong Nai Customs Branch shorten the time, save costs for the process of sending notices and problems, it also allows enterprises to monitor the reception and solutions of Customs problems. Apart from the support as mentioned above, the problem-solving teams at the Customs Department and Customs Branches have been also maintained and promoted strongly.
Mr. Jang Se Jun, the Director of Human Resource Management of Dongsung Co., Ltd said that in the early time of investing in Dong Nai province (2007), his company encountered many difficulties due to the lack of knowledge of legal regulations in the fields of Taxation and Customs. But the company has received much positive support from the Customs authorities, so the production and business activities of the company in Dong Nai province have been stable and developing very well.
Mr. Lee Sang Kook, the Director General of Phu Thanh Viet Trading Development Company also said that the Dong Nai Customs Department regularly updated the changes of legal regulations and specific guidelines for businesses, thereby helping businesses comply with the Law. In addition, the Dong Nai Customs Department always takes the initiatives in collecting comments from the business community on policies and legal documents related to import-export, taxation, and Customs. Mr. Lee Sang Kook also emphasized that Customs officers were always willing to support and actively contact other agencies and departments to assist enterprises in handling difficulty and problems.