'Direct to customer' innovation needed for textiles, clothing
10/07/2017
The textiles and clothing segments in Vietnam stand little chance for any meaningful economic growth in international sales over the near term without substantial reform, says the Textile Outlook International.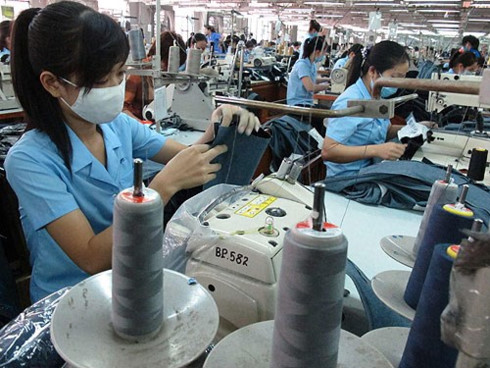 For starters, domestic companies need to change their method of sales from outsourcing to selling direct to customer, says Textile Outlook.
This suggestion is consistent with the global trend in textiles and clothing away from outsourcing. International brands are increasingly seeing less benefit from outsourcing and are moving back to the direct to customer model.
More top global brands are finding that the Vietnam allure of cheaper overhead, lower labour cost and reduction in taxes isn't really a more profitable option for them over the long term.
According to leading US experts, the number of manufacturers selling directly to customers is expected to grow 71% in 2017 to more than 40% of all manufacturers. And over a third of US consumers report they bought directly from a brand manufacturer's web site last year.
The textiles and clothing segments in Vietnam could find themselves shrinking over the next decade if the transformation away from strictly outsourcing to the direct to customer model isn't adopted.
International brands no longer see outsourcing as the panacea they once did and textiles and clothing in Vietnam need to be forward looking and make the transformation to direct to customer before it's too late.
Secondly, only a small portion of clothing produced in the Southeast Asian country is fabricated from materials sourced in country, says Textile Outlook, noting that this needs to increase significantly.
Here again, this recommendation is in line with the recommendation of substantially all the industry experts— as boosting the localization in the segments is a prerequisite to benefit from free trade agreements such as the Vietnam-EU pact, which comes into force in 2018.
To benefit from the trade deal, roughly 50% or better of the raw materials and intermediary goods in textiles and clothing need to be sourced in country, from EU member countries or from the Republic of Korea.
Thirdly, Textile Outlook noted there needs to be a monumental shift away from manufacturing lower end products to creating innovative quality, high value manufactured items and fashionable clothing.
Lastly, more efficient sourcing through vertical integration is essential, as well as an improvement in productivity by enhancing research, training and development.
The segments have already began acquiring advanced machinery and equipment for items such as ring spindles and open-end rotors to modernize its manufacturing facilities but much more extensive investment is needed, Textile Outlook concluded.
Textile Outlook International is published six times a year by Textiles Intelligence. Each issue provides an independent and worldwide perspective on the global fibre, textile and apparel industries.