Deputy Minister Vuong Dinh Hue urges to reduce the rate of specialized inspection to 15%
12/01/2018
"Currently, the quantity of consignment subject to specialized inspection is still about 33%, while the target is to reduce 15%. Although the quantity of consignment subject to specialized inspection is high, but the effectiveness of specialized inspection is still low, the detected quantity is nearly 0.14%. Is it true that the specialized inspection is the procedure to harass businesses rather than to prevent trade fraud?"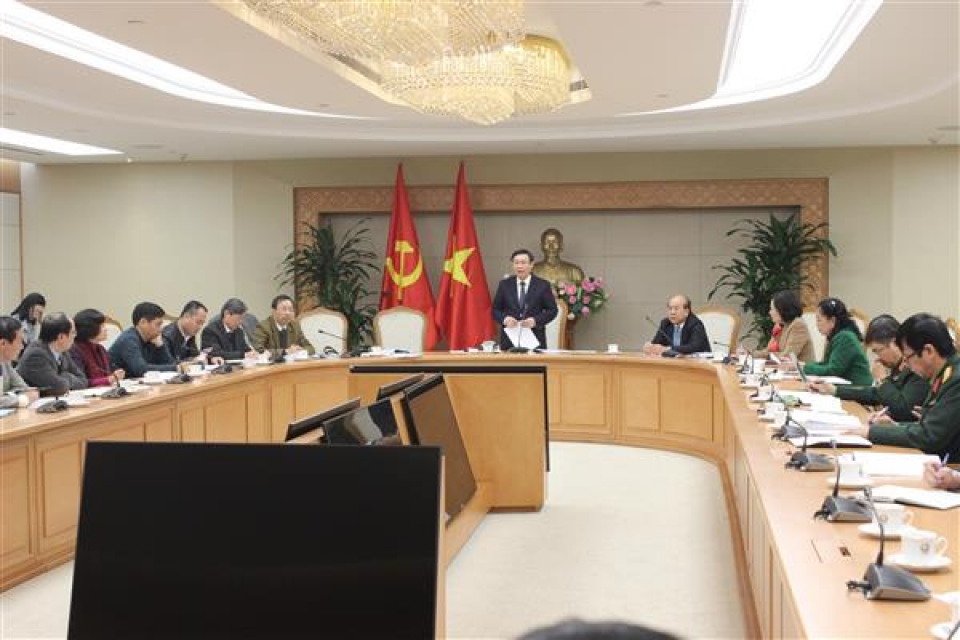 This is one of shortcomings of the specialized inspection for imported and exported goods which was stated by the Deputy Prime Minister Vuong Dinh Hue at the third session of National Steering Committee on National Single Window, ASEAN Single Window and trade facilitation (Steering Committee 1899) on 9th January 2018.
Responsibilities of 12 ministries
"Some key fields were omitted, in contrast, some fields were handled by all ministries, causing the overlap. There have been commodities which are implemented phytosanitary quarantine and veterinary quarantine by 3 ministries"-the Deputy Prime Minister said.
"The ministries only have responsibility for issuing standards, the economic sectors will be in charge of inspection or implementing on the basis of public-private partnerships. The Government's Resolution 01 targets to cut 50% of the number of commodities subject to specialized inspection by 2018. The General Department of Vietnam Customs must clearly define this target and specify responsibility of ministries. It needs to publicize for businesses.
From this reality, the Deputy Prime Minister Vuong Dinh Hue requested 12 ministries having responsibility related to the specialized inspection including: Finance, Industry and Trade, Science and Technology, Agriculture and Rural Development, Transport, Public Security, Health, Information and Communications, Natural Resources and Environment, National Defense, Culture, Sports and Tourism to promptly and fully implement tasks and solutions on the specialized inspection under the requirement of Directive 27/CT-TTg dated 29th June 2017 and Resolutions 19 of the Government. Specifically reviewing ministries and sectors to reduce the rate of commodities subject to specialized inspection in the process of Customs clearance from 30-50% to 15%; Reviewing to abolish at least 50% of commodities subject to specialized inspection under the management of these ministries by the latest in the second quarter of 2018.
The Deputy Prime Minister clearly instructed that the reduction is not mass reduction. It must determine commodities to be cut and to be managed by which ministry.
"In the spirit of not only removing difficulties but also facilitating trade, not harass business" –the Deputy Prime Minister stressed.
The Deputy Prime Minister instructed ministries and sectors urgently and drastically review the list of legal normative documents which must be revised under the requirements in Decision 2026/2015/QD-TTg dated 17th November 2015 of the Prime Minister and Resolution 19 of the Government to amend and supplement in accordance with the required progress and time.
9 comprehensive reform measures
In order to reform comprehensively provisions on businesses conditions and specialized inspections for imported and exported goods, the Deputy Prime Minister Vuong Dinh Hue requested ministries to implement 9 specific measures:
First, reviewing to abolish overlap provisions in specialized management and inspection.
Second, abolishing regulations on conformity certification for each imported shipment and each importer.
Third, the list of goods subject to specialized inspection in the stage of Customs clearance must be reduced (excluding goods with high risk on foods safety, quarantine and national security).
Fourth, applying international practices and simplifying administrative procedures; strengthening post clearance audit, towards source inspection, mutual recognition on the results of specialized inspection and applying risk management in specialized inspection.
Fifth, for imported and exported goods subject to specialized inspections, the list of goods subject to specialized inspection must be issued and enclosed with HS code in accordance with the Vietnam Export and Import Classification Nomenclature; the standards or inspection methods must be announced. The lists without standards or inspection methods must be abolished.
Ninth, computerizing specialized inspection procedures (submitting dossier and returning the result); connecting, sharing and exchanging information among agencies, and implementing specialized inspection via National Single Window portal.
In order to inspect and supervise the implementation by ministries and sectors, the Deputy Prime Minister Vuong Dinh Hue said that he will directly check at key fields and agencies such as Ministry of Health, Ministry of Agricultural and Rural Development, Ministry of Transport.
Sixth, separating drafting and issuing agencies of provisions on specialized inspection and management with the performing agencies
Seventh, unifying an agency in charge of implementing specialized inspection and ending the situation that a commodity is inspected and managed by many different agencies.
Eighth, creating transparent a competitive environment for many organizations implementing the testing, verification and certification; abolishing monopoly positions of some organizations assigned by the specialized management ministries as present.