Cooperation with Top Asia Co., Ltd.
19/05/2017
On 18/5/2017, at KHANH VUA Co., Ltd.'s headquarter, we held a meeting with Ms. Trang, representative of Top Asia Co., Ltd.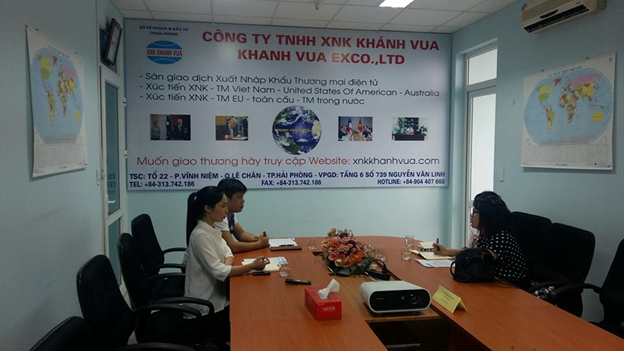 Meeting on future cooperation between our two companies
During the meeting, we introduced ourselves and looked for potential opportunities in logistics and shipping, hoping to improve both of our import and export capacity.
Mr, Nguyen Gia Khanh, director of KHANH VUA Co., Ltd., mentioned that the economy of Haiphong is achieving many milestones thanks to logistics cooperation.
He also stressed that by becoming partners and cooperating in logistics and shipping, we can strengthen our international business relationships.
On behalf of Top Asia Co., Ltd., Ms. Trang introduced us to her company's general business model and scope, their notable achievements, and their desire to cooperate with KHANH VUA Co., Ltd. in international shipping. She also invited us to visit their office.
Mr. Khanh also mentioned that he would be paying a visit to Top Asia Co., Ltd. in order to assess their infrastructure and conduct research on the shipping services that they provide, paving way for long-term cooperation.
Below are a few pictures of our meeting: