Clove (Syzygium aromaticum) is a species of plant in the Myrtaceae family with flowering dried flowers. It is native to Indonesia and is used as a spice in almost every culinary culture. It is called cloves, probably because of the shape of the flower buds that look quite similar to the small nails. Clove is grown mainly in Indonesia and Madagascar; It is also grown in Zanzibar, India, Sri Lanka and the "Fragile Islands" (Molucca, also known as Maluku, Indonesia, also known as the Banda Islands).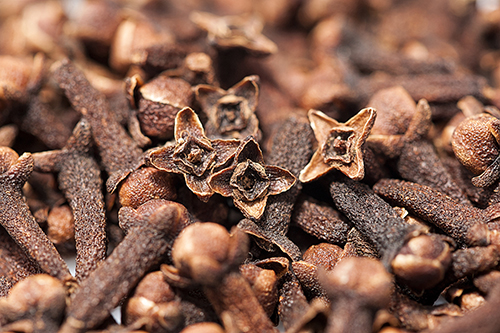 Clove is an evergreen tree that can be as high as 10-20 m tall, with large oval leaves and crimson flowers growing in clusters. The flower buds initially were light colored and gradually became green, and then they turned red, as they were able to harvest. The flowers are harvested when they are about 1.5-2 cm long, including long petals, stretched into four petal leaves and four non-hatched petals forming a small circle in the center.
Clove can be used in cooking either in whole or in powdered form, but because it produces a very strong odor, only very little is used. Cloves made from cloves are used throughout Europe and Asia as well as are added to some types of cigarettes (called kretek) in Indonesia and occasionally in cafes in the West. It is sometimes mixed with marijuana. Clove also is an important ingredient in the production of incense used in China or Japan. Clove oil is used in aromatherapy massage. Clove oil is widely used in the treatment of toothache.
For more information, please contact us via the following information:
KHANH VUA IMPORT-EXPORT CO., LTD.
Address: Black 22, Vinh Niem Ward, Le Chan Dist, Haiphong Office: 6th Floor, 739 Nguyen Van Linh Str., Le Chan Dist, Haiphong City, Vietnam
Telephone/Hotline: +84.931 590 223 | +84.931 590 224 –
TEL/FAX: +84.2253742186 Email: xnkkhanhvua@gmail.com
Website: http://www.xnkkhanhvua.com | www.hptrade.com.vn