China surpasses the US to be Vietnam's largest export market
27/02/2018
Nearly US$ 3.708 billion is the total of Vietnam's export to China in January 2018, a year-on-year increase of 106%.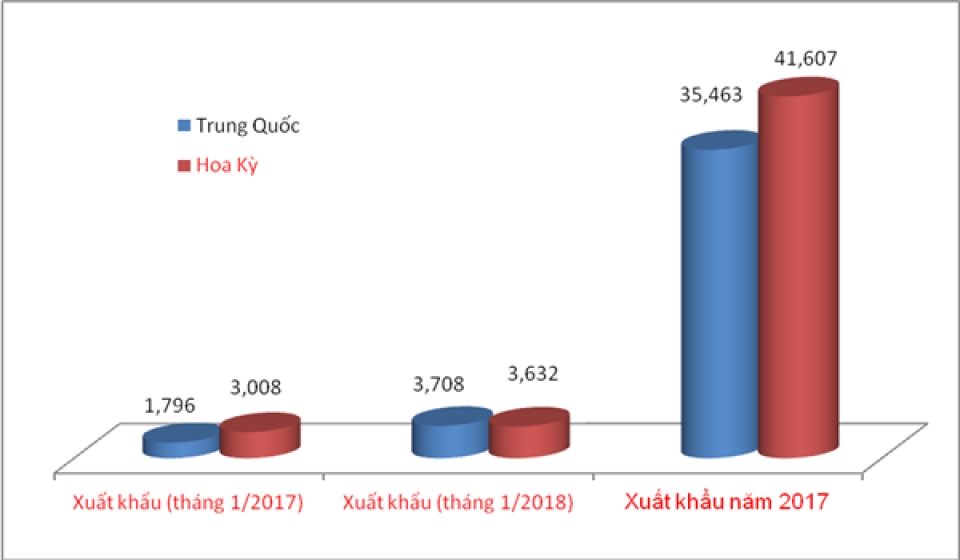 The noticeable information about Vietnam's import and export activities in the first month of 2018 was recently announced by the General Department of Customs.
As a result, export turnover to the world's most populous market increased to US$ 1.912 billion over January 2017 (equivalent to an increase of 106%).
Another noticeable fact is that with such an export value, China temporarily surpasses the US to be Vietnam's largest export market.
Over past years and in 2017, the US remained Vietnam's largest export market, but in January 2018, the export value to this country reached US$ 3.632 billion, only up by US$ 624 million over the same period last year. This result does not help this traditional market maintain its No. 1 rank of Vietnam's exports.
In the first month of 2018, more than 10 commodities exported to China were worth US$ 100 million or more. Among them, the largest was telephones and components with the turnover of nearly US$ 895 million, up 19 times compared to January 2017.
In addition, the export turnover of computers, electronics and components in the first month of the year to China also reached US$ 691 million, up 80.1%.
Especially, vegetables and fruits have ranked No. 3 of Vietnam's main export commodities to China with a value of US$ 296.3 million, up by 68.6% over the same period of 2017. China market occupies 77% of market share in export turnover of the country.
Also in January, 2018, Vietnam spent US$ 5.767 billion to import goods from China. Thus, our country still has a trade deficit of US$ 2.059 billion from this neighboring market, a slight decrease of US$ 46 million compared with the trade deficit of US$ 2.105 billion USD in January 2017.