Businesses flex their muscle to compete with foreign fast-fashion brands
03/10/2017
As more and more foreign fashion brands flock to Vietnam domestic companies have been forced to change their business strategies to survive the competition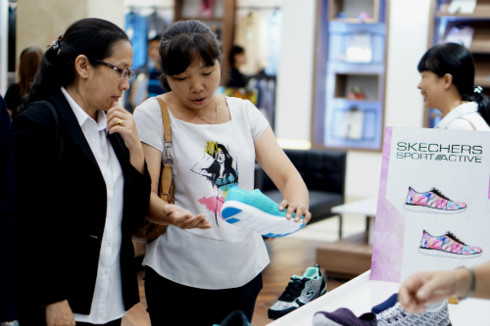 On September 9, more than 4,000 people with bread and umbrellas stood patiently in front of the first H&M shop in HCM City, waiting for their turn to shop.
The first shop of the fashion brand from Sweden is located next to Zara which opened one year ago and had turnover of VND5.5 billion on the opening day.
"Vietnamese now are paying attention to well-known foreign fashion brands which have set up their shops here. They are big and powerful. They can launch sales promotion campaigns to crush local businesses. At fashion forums, local businesspeople have talked about the presence of the foreign giants," said Le Viet Thanh, CEO of K&K Fashion, a Vietnamese brand.
He said there is still much room for domestic businesses because there are many market segments and Vietnamese businesses can easily adapt to new circumstances. But he said K&K Fashion has to struggle to find more customers.
In August 2016, the company decided to use Criteo's cross-device re-targeting technology and the decision has brought initial results. The number of successful online transactions in the months between September 2016 and May 2017 increased by 121%.
Meanwhile, other brands have allocated big budgets for branding. Biti's, a footwear brand, has decided to reform its image by spending money on two music videos of two famous singers Son Tung M-TP and Soobin Hoang Son.
"All the products of the shoes that the singer wears in the MV sold out just within seven days," said Hung Vo, deputy general director of Biti's Vietnam, about the sale of Hunter shoes in early 2017.
Meanwhile, Couple TX which invested in an MV of Hari Won and Ami Fashion, a popular fashion brand, decided to spend VND4 billion to organize a fashion show to honor Lanh My A, a kind of Vietnamese silk.
Viet Tien, the 'elder brother' among Vietnamese fashion brands, has been developing the Viettien House store chain since 2016 in the context of large shopping malls favoring foreign brands.
"We will expand the model in other cities and provinces and harmonize the entire distribution system by the end of 2018. This is an important move in our strategy aiming to boost domestic sales," said Phan Van Kiet, deputy CEO of Viet Tien.
"Branding is a long process. I like the way An Phuoc goes. At first, they distributed for Pierre Cardin. After that, they built brands for An Phuoc," said Nguyen Duc Thuan, president of Thai Binh Shoes.