Black sesame (South called black sesame) is a food with high nutritional value and good medicine.
Black sesame (South called black sesame) is a food with high nutritional value and good medicine. According to food experts, eating black foods such as black sesame, black beans, evil chicken, brown rice ... can regulate the physiological capacity of humans, stimulate the digestive system digestion, Circulatory system increases red blood cell count, pink complexion, dark hair back and prolonged lifespan.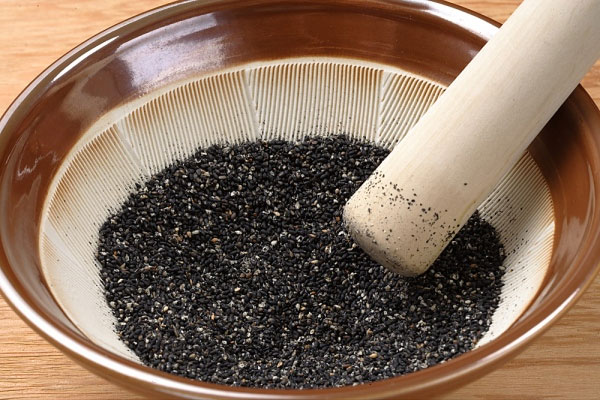 According to traditional medicine, black sesame seeds have the drug name is black. Tue Tinh (Nam pham pham) used black sesame seeds powder fire powder, each drink 12g with less bile or ginger juice to cure back pain. Pregnant women often eat black sesame tea for easy delivery; After dairy shortage, bring star black sesame seeds with salt to eat with rice daily. To cure boil for long time without mouth, take the black sesame seeds 20-30g burning stars, embryos daily.
In combination with many other drugs, sesame seeds are used in the following cases: Strong bone tonic: black sesame seeds 300g cooked, dried, gold star; Strawberry leaves 500g washed, dried in shady or light sun to dry, crushed leaves and veins, dried. Separate 2 separate, sieve into fine powder, mix well, add honey oil to fine powdered powder, do not stick, make tablets about 1g. The drug is black, slightly soft, sweet, fragrant. Drink twice a day, after meals. Adults, each 10 - 20g; Children 5 - 10g.
Sedative, sleeping: black sesame seeds 40g roasted; black beans 40g star; seeds of 20g star; leaves 40g; mulberry leaves 40g, 20g peanuts, peeled nigella 12g star with alcohol. All dried, pounded, sieved powder, add sugar sweet enough to practice with the lake made of corn. Adults twice a day, 20g each
Black sesame seeds cooked with lotus seeds are a common sedative medicine of our people as well as people of some Southeast Asian countries and China.
Relieve constipation: black sesame seeds 300g roasted, pounded, sieve powder; leaves 300g finely chopped, cooked with 2-3 times water and then she becomes thick. Mix flour with high, make 5g cake. Two-wheeled day, braked with boiling water, drink after each meal. Or black sesame seeds 20g; biology, ginseng, circuit subjects, sa ginseng 16g each; jelly 12g. All dried, star gold, flour, honey with enough to work, drinking 10-20g.
Relieve constipation due to reduced muscle tone: black sesame 12g, ginseng 16g; leopard, lake, paint forever, every 12g. Drink on 1 month. Or black sesame 8g; dubious, white, black ginseng, ginseng, gluten, each fortune 12g; Contemporaries, humiliation, loneliness 8g each; Eucalyptus, 6g each. Drinks.
Cure hypertension, sclerosis blood: black sesame seeds, red horn roots, each root 100g. All dried, finely ground, mixed with honey as a member of corn. Drink 3 times, each time 12g.
Black sesame seeds, take 1 teaspoon of oil each day with a little wine to cure bloody hematoma, aches and pains caused by falls. Black sesame oil also has the effect of lowering cholesterol in the blood because it contains more unsaturated fatty acids.
In China, people still prefer a tea of ​​the ancient family to fill the blood, making skin hunting skin smooth, smooth, longevity. Green tea, black sesame seeds, soybeans, green beans, 700g each, 500g tea buds, 150g red pepper, 75g green pepper, 30g dried ginger, 30g pure salt. All gold stars, small canopy. Day 6 - 10g restriction with boiling water to drink.