Apple bites into illegal shops in Vietnam
09/05/2017
A number of mobile stores in Hanoi began removing Apple's "half-eaten apple" logo from their shop banners following the US tech company's request sent to Vietnamese mobile traders recently.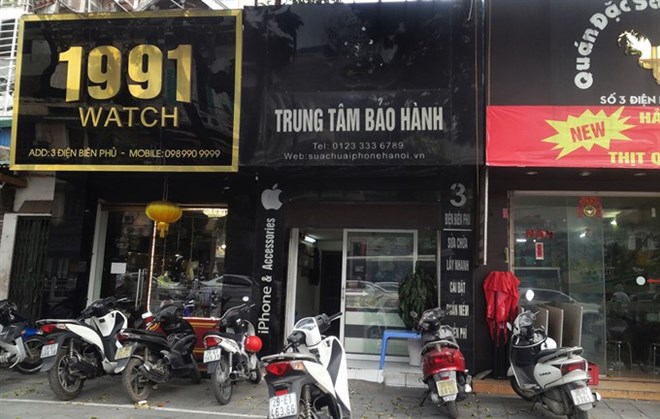 A mobile store on ​Dien Bien Phu Street, ​Hanoi, removed the "half-eaten apple" logo on its banner.
A manager of a mobile store on Thai Ha Street, Hanoi told Viet Nam News that even though signs with the logo were attractive, they would change and remove the logo as it belonged to Apple and was protected.
A store owner on Xa Dan Street also said that his store respected the rights of Apple. "Even though the logo makes it easy for buyers to recognise that our store is selling Apple products, we will repair our shop banners soon because it is the trademark of Apple."
However, he said that there would be other ways to make buyers realise the store sold Apple products such as writing "iPhone" or "iPad" in Vietnamese like "ai phon", "ai pat" or using photos.
Apple Inc's legal representative in Vietnam, VOTRA Co Ltd, recently sent documents to Vietnamese phone stores on their illegal use of the brand's trademark without Apple's permission.
The Apple legal representatives mentioned stores using the "half-eaten apple" logo, trademarks "Apple", "iPhone" or other names such as "Apple Store", "App Store", "iPad", "iPod" and "MacBook", which are protected in Vietnam.
The Vietnamese representative of the US technology company requested the stores stop using Apple's trademark within seven days of receiving the letter. VOTRA also asked the stores to stop selling fake products under the Apple brand name.
Apple has increased its presence in Vietnam since the end of 2015 when it opened an office in HCM City. In 2016, Apple hired VOTRA as its legal representative.
Nguyen Ngoc Duy My from attorney office TriLaw in HCM City told news website ndh.vn that under Article 123 of Vietnam's Law on Intellectual Property 2005, trademark owners had the right to use, allow or prevent others from using their trademark.
"Because of these rights, if Apple does not give written permission to allow others (in this case Vietnamese stores) to use its trademark, these stores do not have the right to use them," said My.
My also noted that just because a store sold Apple products did not mean they could use Apple's trademark without written consent.
In term of fines, the lawyer said shops could be fined from 500,000 VND (22 USD) to 250 million VND (11,000 USD) depending on the level of their violation, business scale and commodity value.
Violators could also receive other punishments such as business suspension from one to three months, material confiscation, or be forced to destroy the infringing goods, she added.
VNA
Source: VietNamNet