AMERICAN GREEN PEARS
25/08/2017
With the motto: always bring to the market clean and delicious fruits, KHANH VUA Import Export Co., Ltd provides the domestic market with imported fruits meeting the standards of food hygiene and safety.
We currently provide and distribute American green pears to agents in Hai Phong city and other provinces in our country.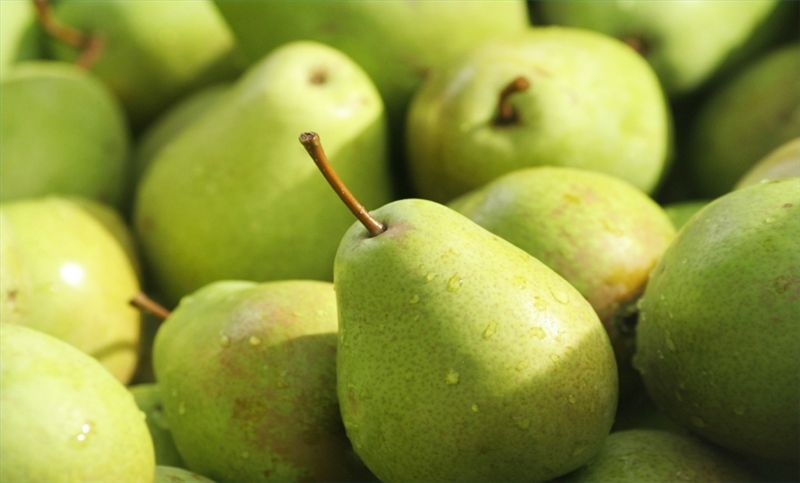 American green pears
American green pears details
1. Introduction
American green pears have distinctive green and cream-colored skin, sometimes alternating with red. When touching on their skin, you can feel them smooth and glossy. American green pears look like Australian Corella pear 's shape: elongated, the top is small and the bottom is big. Each pear weighs from 230gr -300gr .
When being cut into segments, American green pears looks white flesh, not black under normal conditions. When biting the pear, you will feel crunchy, sweet interspersed with its distinctive fresh sour taste.
2. Harvest and Origin
American green pears (Green Anjou pears) are believed to originate in the vicinities of Angers, France. They were introduced to England in the early 19th century, at that time called Beurre d'Anjou and then were introduced to the United States in 1842, after that the name was shortened to Anjou.
American green pears have a special point in their development process that they will not change their skin color from green to ripe. Green Anjou pears are harvested mostly in Washington State and Oregon State, usually in late September or early October each year.
American green pears are often sold in Vietnam from October to December every year.
If you would like to become our American Green Pears agents, please contact:
KHANH VUA IMPORT-EXPORT CO., LTD.
Address: Black 22, Vinh Niem Ward, Le Chan Dist, Haiphong
Office: 6th Floor, 739 Nguyen Van Linh Str., Le Chan Dist, Haiphong City, Vietnam
Telephone/Hotline: +84.931 590 223 | +84.931 590 224 – TEL/FAX: +84.2253742186
Email: xnkkhanhvua@gmail.com
Website: http://www.xnkkhanhvua.com | www.hptrade.com.vn