Actively mobilizing resources to set up centralized automobile zones
18/08/2017
Regarding the automobile market in Vietnam, at the International Conference on Automobile Industrial Zone Development and lessons for Vietnam organized by the Central Institute for Economic Management (CIEM) on 10th August 2017, many experts said that the automobile market in Vietnam was real potential to grow, but there were also many inadequacies, so it is necessary to build automobile zones to promote this industry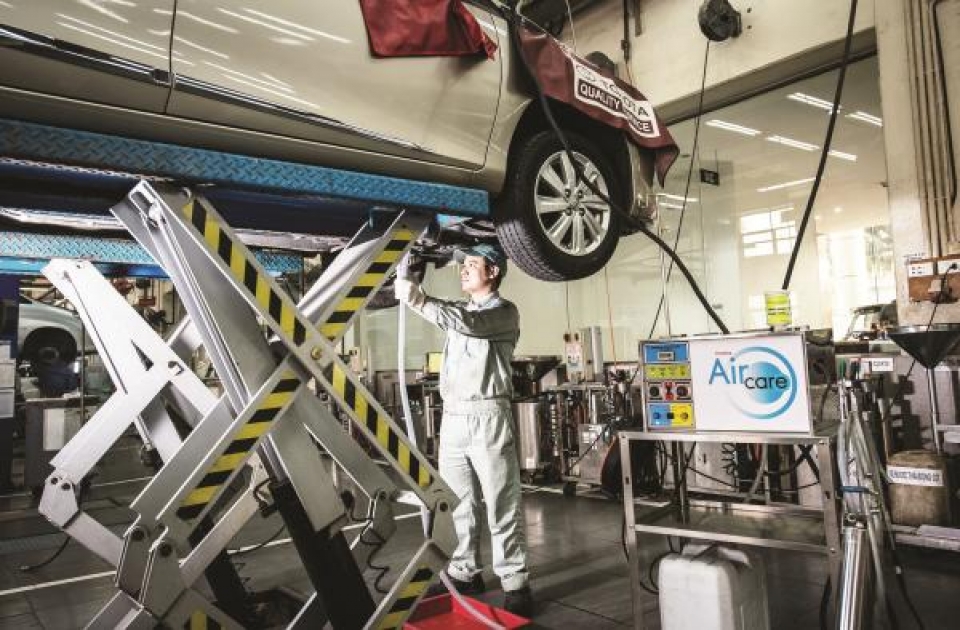 The size of the automobile market is small
Emphasizing that the Vietnam's automobile market had a good growth due to the large population and rapid growth of GDP, however, Mr. Pham Anh Tuan, Head of Policy Subcommittee, Vietnam Association of Automobile Manufacturers said that the automobile market would be quite difficult to survive when the import tax on CBU units would be 0% by 2018. Because imported vehicles from Thailand and Indonesia will increase rapidly as these two countries have lower production costs than Vietnam.
According to Mr. Tuan, the Vietnam's automobile market is considered to be small compared to Thailand and Indonesia, the two countries with the largest car market in the region. In particular, the size of Thailand's commercial vehicle and passenger car market is by four times of Vietnam and Indonesia's commercial vehicle and passenger car market is by five times of Vietnam. In addition, the automobile market is fluctuating frequently due to continuous changes in tax policy.
Mr. Pham Anh Tuan said that the size of the Vietnamese automobile market in 2007 was about 80,000 units, nearly 120,000 units in 2009, but in 2012, it had fallen to about 70,000 units and more than 200,000 vehicles in 2015.
Sharing more about the difficulty in supporting Vietnam's automobile industry, Mr. Tuan said that due to the small market, low output, there would be a large depreciation of investment, so the cost of production of automobiles in Vietnam will be higher than other countries in the region. Currently, the cost of producing parts and accessories in Vietnam is higher than in Thailand and Indonesia. Fixed costs including molds, fixtures of Vietnam are much higher than those of Thailand due to large investment with a small output.
For example, as for Vios, Mr. Pham Anh Tuan said Vios output in Vietnam (14,000 units) was by 14 times lower than Thailand (109,000 units). According to Mr. Tuan, localization has to cut costs, if the cost of producing an accessory in Vietnam is lower than importing from abroad, then localization in Vietnam will be done. Currently, most automobile parts are imported, accounting for 75-80%.
"Due to the import of most components, the Vietnamese automobile manufacturers have to bear additional costs such as packing, shipping, and import duties. However, now the total cost of manufacturing the car in Vietnam is higher than the cost of producing cars in Thailand, Indonesia, even imported vehicles from Thailand including the cost of packing, shipping with an import tax of 0% in 2018, Vietnam supporting industry for cars could not develop", Mr. Pham Anh Tuan said.
According to Mrs. Nguyen Thi Tue Anh, the Vice President of CIEM, the policy, and objectives of developing the automobile industry in Vietnam have existed for a long time, but the Vietnam's automobile industry has been in an underdeveloped state without desired results.
Mrs. Tue Anh also said that the Ministry of Industry and Trade was building a policy to support the development of the automobile industry, which requires setting out how to reduce costs for businesses in this industry to raise a high production efficiency and competitiveness of each unit.
There should be a leading company
As for the construction of the automobile zones, Mrs. Nguyen Thi Xuan Thuy, Industrial Policy Strategy Institute, under the Ministry of Industry and Trade said that industrial zones are geographically clustered. Then, there are vertical and horizontal linkages to create a network among stakeholders, with emphasis on renovation and deployment.
Mrs. Thuy also emphasized that in order to form industrial clusters, it was necessary to create an environment conducive to innovation, which requires initial pre requisites on infrastructure and human resources. In addition, there must be leading enterprises and enterprises that will attract linking companies around to gradually create the accumulation of technology, thereby attracting related subjects such as universities, research institutions to form industrial clusters.
Based on Thailand's experience, Mrs. Thuy said, in the ASEAN region, Thailand was a leading country in the automotive industry. They now have many industrial parks around Bangkok, eastern Thailand. Initially, businesses only invested around Bangkok, because of the infrastructure development, but to expand the investment to the east, the Thai government opened many industrial zones to connect industrial parks together. The government has built expressways that initially only served industrial zones. When everything is full, they eventually formed industrial accumulation.
In Vietnam, initial signs indicated that Vietnam had the potentiality to form industrial zones, because Vietnam could attract large companies, in the north of Vietnam, there are Toyota and Honda, the Central has Thaco Truong Hai. But concentration levels of Vietnam are not really good compared to Thailand, China, and Japan, because the first-tier supplier network in Vietnam is very weak.
Mr. Vu Quang Long, a representative of Thaco Truong Hai said that it proactively set up an industrial cluster with 23 subsidiary companies producing Truong Hai auxiliary components. The car requires a lot of detail, 23 subsidiaries only produced very few components for the production of a car. Therefore, enterprises had to import more components. In fact, many enterprises produced and supplied components for Truong Hai, but these companies are mainly located in the northern area. In addition, the supply of components mainly in the North led to a high cost in the purchase of components because logistics costs in Vietnam is very high.
actively mobilizing resources to set up centralized automobile zones
Germany is the largest import market of Vietnam in Europe
VCN – Germany is the largest import market and largest trade partner of Vietnam in Europe currently.
Proposing to develop automotive industry and automotive supporting industry in Vietnam, Mr. Pham Anh Tuan suggested that in the long run, we need to develop supporting industries for the automobile industry. In addition, it is very important that policies for the automobile industry in the past time are continuously adjusted and unstable so it is necessary to have a stable policy mechanism for this industry, At the same time, there is a need for production incentives for local producers to maintain domestic production when the market is not really large. He also said that tax policy and the stable fee would help the market grow. The government should also develop infrastructure, develop industrial parks and factories away from cities to reduce production costs and reduce the population density in major cities.
By Hoai Anh/ Hoang Anh